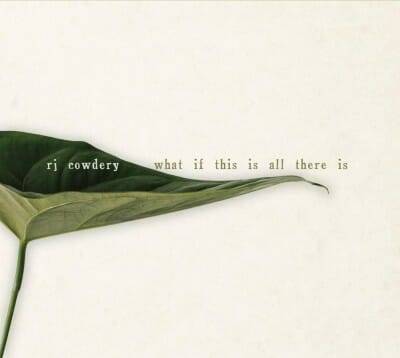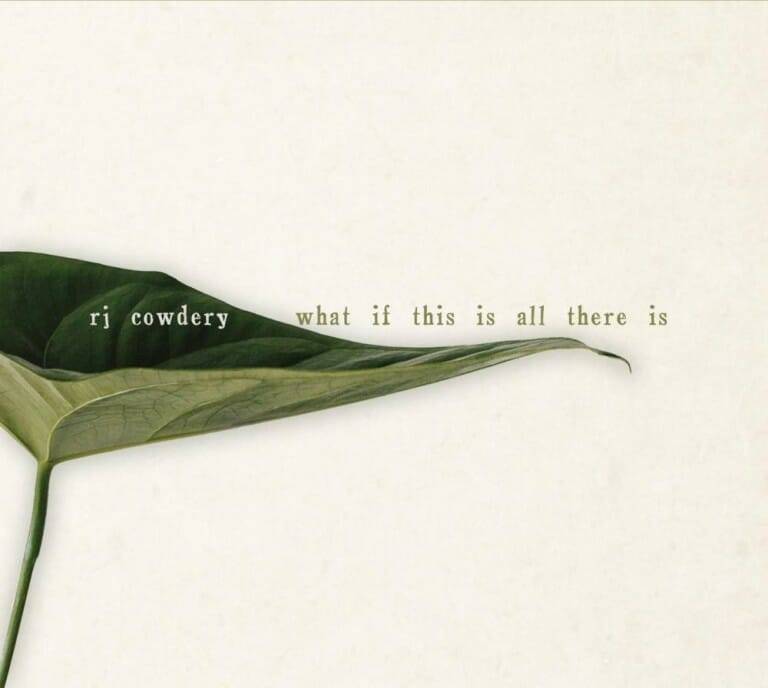 RJ Cowdery
What If This Is All There Is
When you listen to an album that evokes Patty Griffin, Gretchen Peters, Kim Richey all rolled into one, you know you've picked high-cotton. What If This Is All There Is, is one of life's grandest questions. It's reflective and forward focused and allows for personal growth. If this is all there is for RJ Cowdery, she's in a good place. I'm glad she made it, but I know this is only the beginning.
RJ Cowdery writes from a place of having lived. Her songs are straight and to the point in a kind and knowing way. With the passing of time the world gets smaller and the big things fade out of focus. It's easier to see the little things. Things that matter most. It's from this place that these songs come. With a bullshit radar finely focused, these are the story of RJ Cowdery. They are your story too. Lean in hard. It's okay, RJ's been there and she knows the way out.
From the first few notes you know this is a special album, but it's RJ's voice that seals it. The opening song, "Somewhere A Place", hits you immediately. A reflective song about love denied wrapped in velvet vocals. It's a love song, a what if song with a tom-tom pater, simple key strokes, and gentle guitar. The title song leaves no doubt about what RJ Cowdery is pondering. "What If This Is All There Is"
"I know this might sound crazy

But for me it rings so true

One song at a time is doing me just fine

And who knows I might just pull through"
RJ only recently decided to focus on her music full-time, but she has made short order of it. She has been winning songwriter awards at several prestigious contests such as Mountain Stage and Kerrville. This album has its debut at #49 on Roots Music Report, and is ranking in DJ playlists, (The complete list of accolades, as well as lyrics, can be found at rjCowdery.com). These are beautiful folk songs, that sometimes rock out as it does with "Broken Wheel". These are country songs with lyrics that spin a beautiful story as they do in "Secrets Of My Dreams", "Don't Give Up", or "Is There Time". "Shotgun Rider" is the most instrumentally interesting song with banjo, dobro, flat-picking guitar, and mandolin. "Girl In The War" is simply stunning with its harmony vocals, mandolin, and upright-bass. "Get Out Of Here" is going to be every-woman's theme-song.
"I'm a little bit firecracker, little Pillsbury Dough

I find comfort in the silence that often leaves me sad and alone

I am wiser cuz' I'm older and I've got the scars to prove it

If you look beyond the surface you just might find I'm worth it"
"Lost and Found" evokes Rodney Crowell. The fiddle plays prominently as the journey of the album is complete. Like two old birds, the album has minced words scratched around and has found what was there all along.
All the songs on What If This Is All There Is are written by RJ Cowdery with the exception of "Girl in the War" by Josh Ritter. Produced by Amy Speace, RJ provides vocals and acoustic guitar. Thomm Jutz recorded, engineered, and mixed the album and provided acoustic and electric guitars. Mark Fain plays upright bass, Lynn Williams provides drums and percussion, Jen Gunderman plays keys, and Justin Moses plays banjo, fiddle, and mandolin. Harmony vocals are provided by Ingrid Graudins, Melissa Greener, and Amy Speace.
Taking stock and finding yourself in the middle of life you do ask "What If This Is All There is"? You figure out what works and what doesn't. You focus on the joy and on the real. For the album, as in life, everything here belongs.