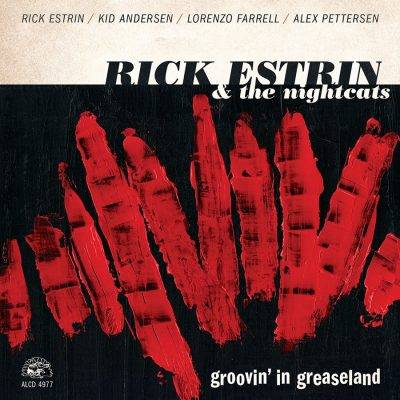 Rick Estrin & The Nightcats
Groovin' in Greaseland
Alligator Records
Rick Estrin was born in the San Francisco area in 1949. He fell in love with the Blues and began playing harmonica at the age of fifteen. His style has been compared to both Sonny Boy Williamson II and Little Walter Jacobs. Early in his career Estrin played with both Lowell Fulson and Z.Z. Hill; when he migrated to Chicago he worked with Eddie Taylor, Johnny Littlejohn, and Sam Lay.
Estrin moved back to the Bay area and in 1976 met Charlie Baty; together they formed Little Charlie and The Nightcats. They released their Alligator Records debut "All The Way Crazy" in 1987. Another nine albums were to follow before Baty retired in 2008.
Estrin had always been the front man of the band so it was natural for him to become the leader. The veteran rhythm section of Lorenzo Farrell, bass and keyboards; and J. Hansen, drums; were there when Estrin recruited Chris "Kid" Andersen from The Charlie Musselwhite Band.
Estrin had previously been nominated for two Blues Music Awards winning the "Song of The Year" in 1994 for his composition "My Next Ex-Wife". The newly reformed Nightcats scored big with their 2009 Alligator debut "Twisted" and again with another studio album, the 2012 follow up, "One Wrong Turn". Their last recording was 2014's thirty year retrospective "You Asked For It…Live!" As a direct result Estrin was nominated for an additional eighteen BMA awards including six for Band of The Year and five for Entertainer of The Year. In 2013 Estrin took home the award for Best Instrumentalist – Harmonica.
The band now includes Estrin, harp and vocals; Farrell, organ, piano and Wurlitzer; Anderson, guitar and bass; and their newest member Alex Pettersen, drums. Ten of the thirteen tracks were written by Estrin while another was co-written by him with Anderson; Farrell and Anderson each contribute another. The album is co-produced by Estrin and Anderson and recorded at Anderson's Greaseland Studios.
Their third studio album opens with "The Blues Ain't Going Nowhere" featuring Jerry Jemmott on bass. Jemmot played with King Curtis, Aretha Franklin, Ray Charles, Wilson Pickett and others. Estrin's chromatic harp solo is absolutely fabulous. Jemmott plays again on "Looking for a Woman" and on the slow blues of "Another Lonesome Day" featuring Anderson's guitar and Farrell on organ.
"Hands of Time" is a Jimmy Reed styled song co-written by Estrin and Anderson. On "Dissed Again" the background vocalists include Kyle Jester, fellow harp player Aki Kumar, Anderson, Sam Bolle and Jerry McWorter (of "Hot Roux"). Although "Tender Hearted" is another vocal it's also a bit of film noir.
The instrumental "MWAH!" written by Anderson includes Nancy Wright on saxophone and a "Wipe Out" type drum solo by Pettersen. Another instrumental "Cool Slaw" is from Farrell who is featured on organ with another great guitar solo from Anderson.
Two of my favorites tracks are Estrin's vocal on "I Ain't All That" featuring Anderson with Farrell on piano; and "Big Money" featuring the horn section of Terry Hanck, sax, and John Halbleib, trumpet. On the latter Pugh on piano, and Farrell, on organ, sound great together.
On "Hot in Here" the band is outstanding as they each take their respective solos. Another good song is "Living From Hand to Mouth" featuring some more beautiful organ from Farrell. The closer "So Long (For Jay P.)" is a melancholy instrumental dedicated to the late Jay Peterson, an original band member and bassist, who played on the Nightcats 1987 debut.
Throughout the recording we are treated to Estrin's humorous songwriting and world class harmonica playing. Estrin is a class act and the consummate professional.
Richard Ludmerer
[amazon_link asins='B072N6KP8P,B00K5GHM7S,B0026IZRFC,B001Q8FRC6,B008216F44,B00006HI6Z' template='ProductCarousel' store='maasc-20′ marketplace='US' link_id='bad9d471-8a94-11e7-8c2d-753c2415c6fb']