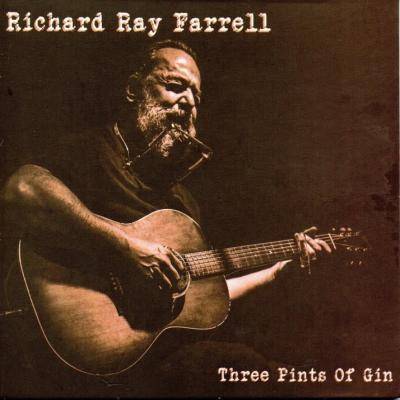 Richard Ray Farrell
Three Pints of Gin
Blue Beet
Life in Spain seems to be treating American bluesman Richard Ray Farrell well. You could almost say he is back where he belongs. Farrell was born to travel, having started as a street musician or "busker" in Paris, France in 1975. Totally fascinated with the music of Muddy Waters, Robert Johnson and other legendary blues players, Richard played for hours on end in the halls and tunnels of the Parisian "Metro" subway, scraping out a living as a musician, literally a "po' boy long way from home," as related in his biography. To examine Farrell's career, he has spent more time in Europe than the states, having resided in Germany for years to. He did return to the U.S, in 2001 and spent about a decade in the states before returning to Spain.
Three Pints of Gin is his first new release in several years. This release was recorded with no overdubs as a live album in in Spain but was mastered in Philadelphia, where Farrell spent time in the early part of this millennium. Farrell lays out a generous offering of sixteen tracks, a dozen originals and four covers. This is completely unadorned as Farrell plays all acoustic guitar parts, all vocals, on some tunes blows his harmonica on the rack. It's gritty, raw, hones, and perfectly fitting for a solo acoustic blues album. Farrell displays not only a true reverence for the idiom, but a gift for songwriting and top notch picking. No, this is far from his first rodeo.
In fact, Farrell's discography boasts some great albums. His Down Home Old School Country Blues' recorded with blues harp traditionalist Steve Guyger remains one of his best and the one most decorated, although I Sing the Blues Eclectic is the best display of Farrell's full arsenal, alternating acoustic with electric fare. The gorgeous ballad-like "Listenin' to the Fallin' Rain" that he performs here first appeared on that album. Another, the aptly titled "Bohemian Life" first appeared as the title track of his 2003 album. Those two are clear standouts for this writer among a strong repertoire. In fact, as strong as those albums were, this can stand right aside them and maybe even a tad or two higher. There's a palpable energy and passion that seems to slightly exceed previous efforts. Farrell feels this is his best effort to date and who's to argue?
Covers include Lonnie Johnson's (always a favorite of Farrell's) "Lazy Woman Blues,"' Fulton Allen's "Funny Feeling Blues," and the old traditional blues standard "He's in the Jailhouse Now." Other original standouts include "Triflin Preacher Blues," "Oh Begonia," "Dope Shootin' Woman," and the aptly titled "I'll Be Comin' Home." That one signals a hope that we'll see Farrell back in the states for some performances. But, as stated in the opening, life in Spain seems to be treating him well.