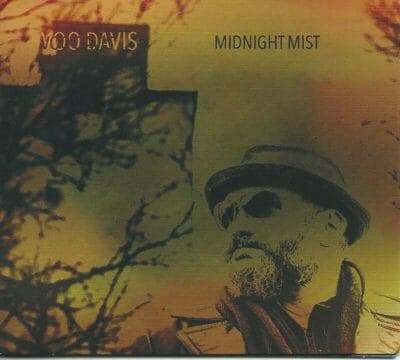 Voo Davis was born in Alabama and moved to Chicago as a child. Although he is based in Chicago now, the South obviously has filled a huge part of his soul. His voice evokes Joe Cocker and other growly-voiced rockers and the sound may have a bit of Chicago grit but it has large doses of classic Southern rock and blues. Add evocative lyrics that make you see and feel that midnight mist and hear and experience the sounds and sights of Clarksdale, Mississippi and the Cajun country of Louisiana and the Alabama coastline you have a fantastic musical journey.
Voo Davis plays multiple instruments here, including vintage guitars, pedal steel, mandolin and keyboards. He is accompanied by Craig Borchers on drums; Michael Burkart on Hammond B3 organ; Reggie Winterland on bass; Calvin Conway on harmonica and fiddle; Carolyn Broussard and Dorian Rush providing background vocals.
The album was recorded at Bogalusa, Louisiana's Studio in the Country in three days, without computer fixes or multiple takes. This gives the music a high energy level and intensity that is irresistible.
Things get started with the cool Southern boogie of "When I Get Back to You." It is followed by the title tune, "Midnight Mist," about traveling through the South, a highlight of the album, soulful and heartfelt. "My Love" is pure Southern rock that attacks you with a wall of sound and should get you moving. "Cajun Sun" takes things a bit more country and features some great guitar work.
"Riverside Blues" is Davis' stunning tribute to Clarksdale and will make you feel as if you are right there at the Riverside Hotel even if you've never actually been there. "Howlin' Out Your Name" and "Find Me A Black Bone" evoke classic blues images with a rock beat, and in the case of "Find Me A Black Bone," some very effective vocal echo. "Music in the Street" is highly danceable and the sensitive "Laughing Out Loud" slows things down for a thoughtful end to the regular album edition.The deluxe edition includes two more songs, the dark "Void," and "You Wanna Know Why," which reminds me strongly of Joe Cocker.
"Midnight Mist" is a ride from the swamps through the small towns down Highway 61. It's a trip well worth taking.