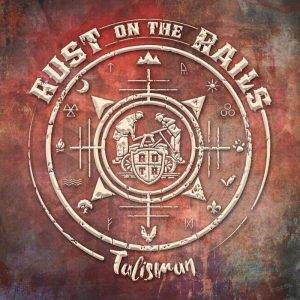 Northwest super group Rust on The Rails is a collaborative ensemble that began as an acoustic based progressive rock meets world music hybrid that has evolved into a full force commercial rock band, ready to take its place in the upper echelon of Seattle music history with the release of their first full length album Talisman, to be released in January of 2017.
Band leaders Cody Beebe and Blake Noble who founded the band with Grunge Rock star drummer Scott Mercado ,fiddle master Tim Snyderand stalwart bass man Eric Miller for their 2014 debut, now have enlisted songwriting help from NBC's The Voice star Austin Jenckes, along with Nick Foster. Mercado was supplanted by a new drummer with a deep pocket Chris Lucier and Andrew Joslyn and his Passenger String Quartet supply dramatic underpinnings to several tracks.
The album has ten new songs and one heavily re-worked reprise of the time shifting prog rocker "Far Cry," from the band's first EP. The Rust on the Rails sound is now more fully fleshed out after spending the summer in a studio in Cle Elum, recording with co-producer Seth Paul and engineer Brandon Busch, with the high plains of central Washington giving the music more perspective and a wide-open feel beyond the confines of the city.
Opening track "Every Little Thing," begins with Noble's signature Didgeridoo wail and a tribal groove, then gives way to Beebe's powerful gritty vocals that draw instant comparisons to a young Chris Cornell. A creative balance between acoustic and electric guitar riffs is employed for the brotherly advice narrative "Trip." The first single from the album, a the funky singalong "Abbot and Costello," shows off some of that new found pop influence that should propel the band into a wider audience, and that is a good thing, because they deserve national attention and the world needs better rock bands.
The artistic high-point of the album is the expansive confessional ballad "Secrets," which finds Beebe baring his soul while the music rises and falls in cliff hanging dynamics amidst swirling guitars and violin.
The mood takes a step back with the lilting soundscape of the acoustic driven "Lost And Found," before that fore mentioned re-do of "Far Cry," and heavy duty funk rocker "Crutch," remind us that these fellas grew up on Soundgarden and the Red-Hot Chili Peppers.
More stellar strings and muscular drumming flesh out the ballad "Play The Fool," and Noble delivers his vaunted rhythmic acoustic guitar approach playing the foil to Beebe's Les Paul for the tribal stomp of "Love and Lace," and the slinky romp "Can You Feel It." Album closer "Foolish Pride," is a brilliant curtain call for all the skills and passion of the ensemble, building from Beebe's lone vocal to a climax of fiery emotion.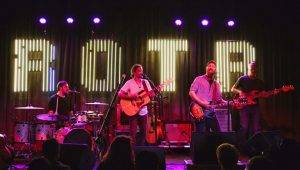 (Pre-Sale for Talisman starts Dec 2nd at www.rustontherails.com. You can also follow the band on Facebook and sample more of their music on via Soundcloud. Click on the play button below to watch the official video for the first single from the album.)
Rick J Bowen