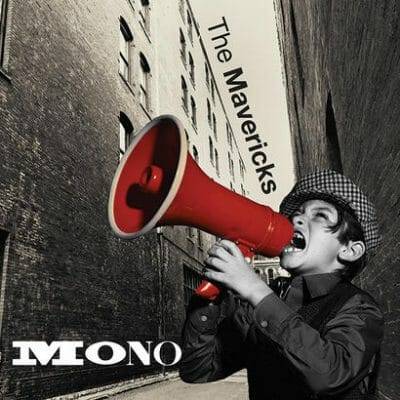 The Mavericks are a party band. They define everything there is to say about "feel-g99d" music. Aside from that, while they are usually classified as country, they are a marvelous mix of roots music, with heavy doses of Latin, rockabilly and Tex-Mex.
On the new album, Mono, things get started with "All Night Long," with upbeat Cuban rhythms and Raul Malo's distinctive vocals inviting you into the party. It is followed by "Summertime (When I;m With You), a perfect rockabilly ballad that sounds as though it could have come from an early '60s car radio. "Pardon Me," and "What Am I Supposed to Do" also have a vintage rock 'n roll feel, but with a more sedate pace.
"Stories We Could Tell" reminds me of vintage Marty Robbins,, and then "What You Do To Me" brings back the horns and Latin rhythms to get you up and dancing if you aren't already. "Let It Rain (On Me)" turns the dance into a slow dance, with a wistful, yearning vocal and accordion, horns, and xylophone accompaniment.
"The Only Question Is" brings us back to Fats Domino territory, with clever lyrics and the perfect sound both vocally and instrumentally. It is followed by the Bakersfield-style country tune "Out the Door," strongly reminiscent of Dwight Yoakum and Buck Owens.
"(Waiting For) The World To End" is my favorite track, pure Tex-Mex with clever lyrics. I love the way that at the end of the song the refrain changes from "We're just waiting for the world to end" to "We're just waiting for the song to end."
The album ends with another perfect choice, the Doug Sahm cover "Nitty Gritty," another blast of Tex Mex.
The theme of The Mavericks' current tour is "Mono Mundo" and Mono fits that theme just right. The music here crosses genres, decades and cultures to include us all in one big happy world of sound.
Some people may be bothered by the mono mix of the album, but to me it just gives the album the vintage sound I am sure The Mavericks were going for. This is a thoroughly enjoyable experience and you should add this album to your collection. It is perfect for parties, the beach, or any social event.