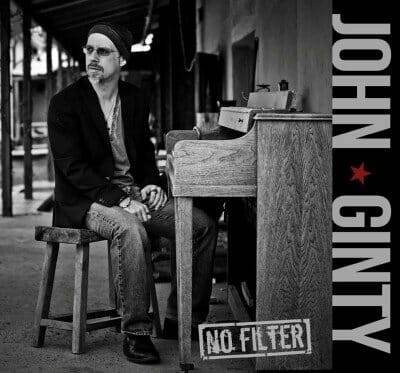 John Ginty's "No Filter" showcases Ginty's keyboard virtuosity, especially on the Hammond B-3,and the vocal and musical skills of some of his very talented friends.
The themes are are pretty dark, while the music is a powerful mix of blues,, jazz and Southern Rock. It all kicks off with the powerful "Fredo," a densely layered, percussion and organ filled tour de force that reappears at the end of the album as a surprisingly effective, fiery rap from Redman.
Giinty himself does no vocals and there is not a regular vocalist in the band, so he enlists the help of some very strong friends on this album. First up is Cris Jacobs,who also plays guitar on the samba-tinged song about woman as temptation, "Ball of Fire."
Next is this reviewer's favorite track, "Old Shows." Alexis P. Suter is the vocalist for this one, and her voice is perfect for this gospel and blues infused number which reminds us not to judge "until you've walked a mile in these old shoes." Ginty plays marvelous acoustic piano on this number.
The instrueental, "Elevators," lets Ginty and his band delve into their Southern rock roots to give us some good old jam music. Then Cara Kelly shines on the vocal for "Battlefields," adding yet another distinctive voice to this incredible display of talent. Paul Gerdtz handles vocals for "Rock 'n Roll Sunday," which has a distinct Lyle Lovett sort of sound with jazz and gospel hints. There's some great gospel keyboard work on this one.
Cris Jacobs returns to sing "Annandale," a very sad prison ballad in the time-honored blues tradition, followed by the instrumental "No Jelly," a spacey jam with killer B-3 by Ginty. Jacobs is the vocal front-man for "Pirates," a Southern rock ballad, and Cara Kelly is ultra sultry on "No Fitler."
With his superior keyboard skills and excellent backup musicians and his talent for attracting strong and charismatic guest vocalists, Ginty proves with this album that he is a force to be reckoned with in contemporary blues. He is a great performer and bandleader and this album is a don't miss!
https://open.spotify.com/artist/2q2JFOrUsMQNT5h2ycFbmk