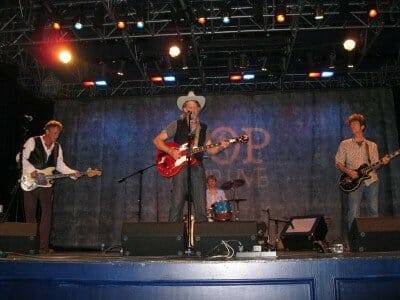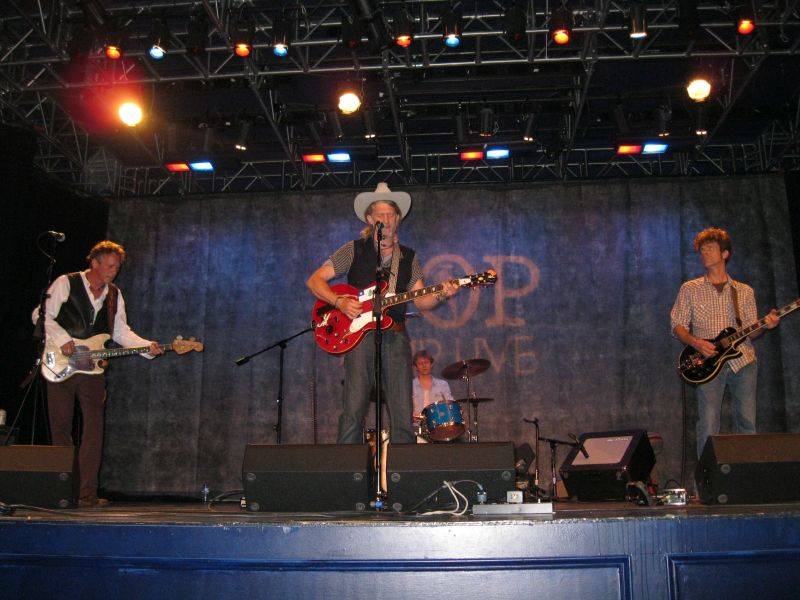 Jimbo Mathus is such fun to see in concert. He is a skinny guy and he and the TriState Coalition have a very down-home look. In concert, at least in Duluth, he skews considerably more straight country than he does on most of his CDs (with the exception of 2008's Jimmy The Kid. His laid back, conversational style with the audience reminds me forcibly of the way Hank Williams sounded on the old radio programs I had a chance to review a while back. He sounds perfectly natural and at home, and that carried over to before the show, at intermission, and after the show, when he handled his own merchandise table and talked to everyone who approached. Since there was not a very large crowd, he spoke to nearly everyone. (The Red Clay Theatre was less than half full.)
As for the music, it was marvelous. Mathus and the band played songs from all 5 of the CDs that have been released in the last 4 years, including "Fallen Angel" from Jimmy Kid and continuing through," "Shoot Out the Lights," "Coyote." and "Old Earl" from the new Blue Healer, which just came out last week. . But he also did a number of covers, which surprised me because I have only heard him do his original music. Highlights for me were the absolutely stellar version of Merle Haggard's "Sing Me Back Home", an amazing bluesy "Casey Jones" that made that old song sound new, and the Carter Family's "Keep On the Sunny Side," which ended the show.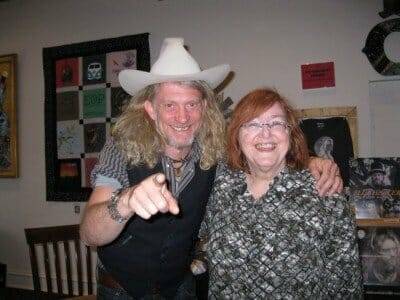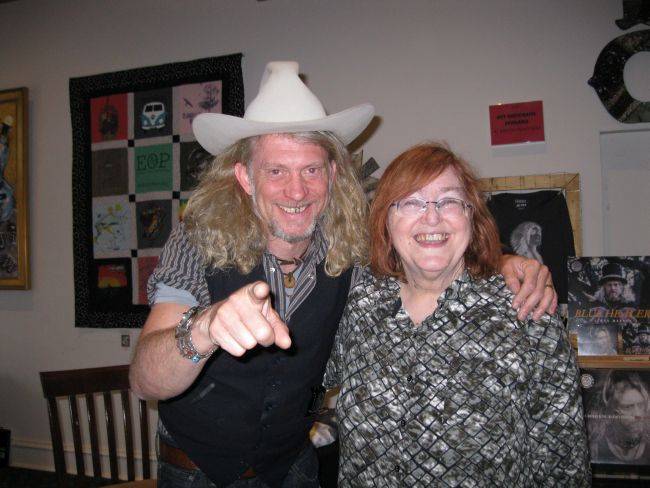 So the show was both surprising and delightful, with less of the metaphysical songs of Dark Night of The Soul- and more of the honky-tonk, seasoned with Southern Rock and a touch of blues from time to time. Mathus is just breaking into the live music scene in Georgia, and people have yet to discover what a treasure he is. But the enthusiastic audience last night will help spread the word, and next time hopefully people will come out in droves to see what they are missing.
Before the show, we talked about the Nudie suit Mathus wears on the back of the Jimmy The Kid CD. (Nudie was the famous designer who created sparkly designs on suits for stars like Porter Wagner and Webb Pierce back in the day.) He said he almost wore it Saturday night. I suggested to him that he should wear it next time. Now that would really make for a nice visual!
Kudos to Jimbo Mathus and The TriState Coalition and to Eddie Owens Presents and The Red Clay Theatre for a great night of entertainment!