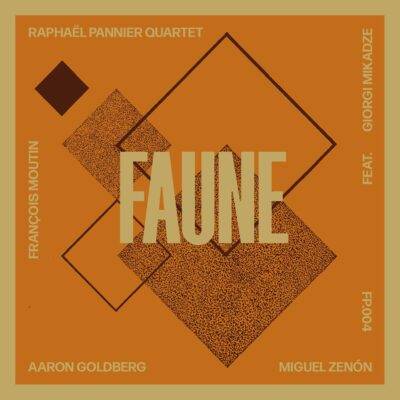 Raphael Pannier Quartet
Faune
French Paradox/L'Autre
In May we brought you the masterful work of alto saxophonist/composer and MacArthur Fellow Miguel Zenon's Sonero: The Music of Ismael Rivera. Zenon is the lead voice and musical director of the quartet on this brilliant debut from French drummer Raphael Pannier. Zenon is a mentor of Pannier's and speaks very highly of this project, Faune, which in the broad sense merges French classical music with contemporary, improvisational jazz for a lengthy listen of an hour plus. To delve even deeper, we could say that at least three cultures are at work, given Zenon's Puerto Rican roots. Yet, Pannier is the leader and the composer of seven of these dozen selections, The other quartet members are bassist Francois Moutin and pianist Aaron Goldberg. Georgian classic pianist Giorgi Mikadze plays on the three more classically oriented pieces.
This is not to suggest that all the music herein will be unfamiliar. The album kicks off with a lyrical version of Ornette Coleman's classic "Lonely Woman" with both Zenon and the leader taking imaginative solos. Midway through the set we hear a muscular rendition of Wayne Shorter's "ESP," authored for Miles second great quintet and featuring amazing soloing from Zenon, Goldberg and the leader. Along with those two, the trio piece "Capricho de Raphael" features dazzling performances from each member of the rhythm section.
Pannier brings an imaginative high level of technique, laying down complex, varied rhythms that provide rich color and texture. Presenting the band in trio and quartet configurations (a half dozen each) adds to this expansive color palette. The French title Faune translates to "wildlife," though it also references a mythical sense of the animal spirit famous in works of French modernism by Debussy and Mallarmé. The nod to Debussy's famous prelude is apropos, as the album reflects an impressionistic sensibility, combining it with a keen rhythmic vitality. Like Debussy, Pannier is very much a colorist of his instrument, creating a sonic impressionist landscape that's reflected in both his original compositions and his arrangements. The mere mention of Debussy recalls an interview this writer did decades ago with the late sax giant, Dexter Gordon, who indelibly claimed – "I like listening to Debussy because I dig the colors." Maybe Dexter is smiling down from jazz heaven listening to this project.
"Lullaby" is a journey into dreams, "Fauna" an exploration of an imaginative forest, "Monkey Puzzle Tree" an apparitional tree with incredible harmonies. "Midtown Blues," an aural sketch of Manhattan executed as a joyful, swinging piano trio, perfectly depicts the feeling of being bumped and bounced while walking in Times Square. The more classical tracks include the album's centerpiece work by Messiaen (from his 1944 piano collection Vingt regards sur l'Enfant-Jésus), and a selection by Ravel (from his 1917 suite Le Tombeau de Couperin). Multiple pieces, including "Forlane" and the intro/outro frames for "E.S.P.," have additional electronic atmospherics created by Jacob Bergson. The Ravel piece, played as a classical score with modern rhythms and textures interwoven, is just one example of Pannier's unique approach. "Many jazz musicians have played 'Forlane' as jazz," he says, "but I don't think anyone has played the score and then reimagined a drum part within it quite as we've done." By translating the traditional classical score and adding a modern vernacular, Pannier retains and builds on the emotional authenticity of the works
The album's cover art, an image of a work by Theo van Doesburg, reflects Pannier's generous, wide-ranging aesthetic. Founder of the European artistic movement "De Stijl" at the beginning of the 20th century, van Doesburg believed in the universal power of abstract art. Playing with light and colors, simple cubic volumes, and rhythmic concrete lines, he gave birth to a refined, rhythmic new style that would inspire artists including Mondrian and the Bauhaus, and now, Pannier on the musical side.
Perhaps this passage from the liners best sums up the aesthetic – Raphaël Pannier is a rarity, and you can hear it right away. In him agglomerates worlds that rarely speak to each other: jazz, classical music, contemporary music, painting, literature … It is no coincidence that he chose in Faune a title that refers to this time of the penultimate century where Debussy, Mallarmé and Gauguin declined the same ideal of a generous and subtle art. And it is clear in his music that Raphaël wants to make jazz say much more than his strict tradition. And, later there is another ode to Pannier – Note in passing that in jazz, the drummer's desk is not predestined for composition or conducting, and that it takes exceptional personality and musicality to exceed this glass ceiling. Because the beauty of this project is precisely due to the fact that the repertoire, which extends from Maurice Ravel to Wayne Shorter via Olivier Messiaen, Ornette Coleman or Hamilton de Holanda (without forgetting the numerous compositions by Raphaël himself) as a single large room, each moment of which is thought out, arranged and played out in relation to the whole.
On a somewhat related note, two weeks ago we brought you another project that merged classical and contemporary jazz (okay, sans literature and painting) from Quinsin Nachoff that sounds nothing like this one due to its violin orientation. Yet, we mention that here for this readership, who we tentatively assume are a little reluctant to step into the worlds of classical and improvisational jazz, let alone a combination of the two. TAKE THAT LEAP. IT WILL PROVE REWARDING.
Faune is a complete work of art with a level of performance and expression unusual in a debut. It traces, by its very design, the formation of a refined and timeless music, executed with imagination, finesse, and elegance. This is the kind of music you close your eyes to – fall into a dreamlike state and envision colors, or even the imaginative forests and/or wildlife that Pannier conceived in his writing.