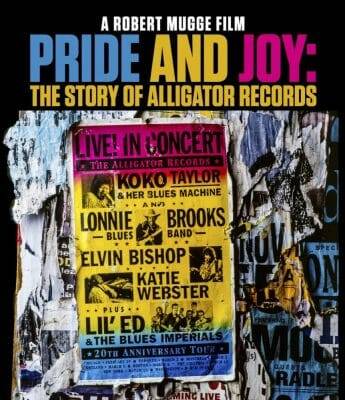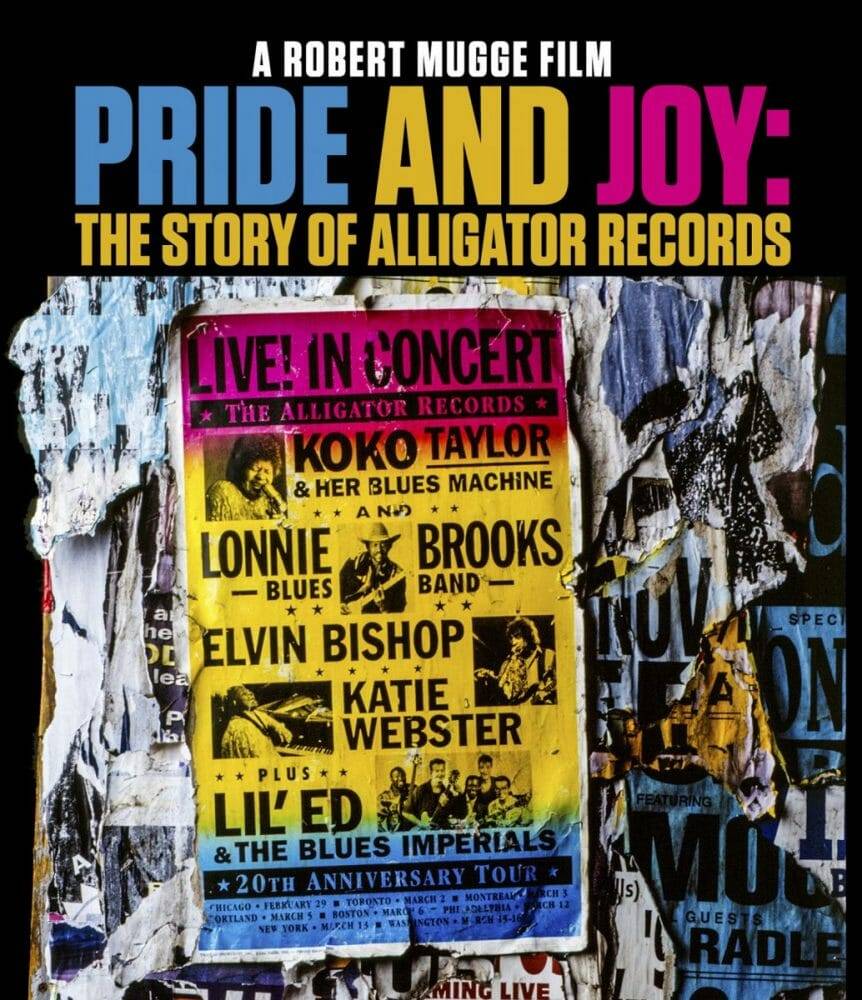 "Pride and Joy: The Story of Alligator Records" www.MVDvisual.com Blu-Ray Disc
For forty-five years Alligator Records has remained one of the truest Blues recording labels since their humble Windy City beginnings. Bruce Iglauer founded the company in 1971 and still remains; as owner, chief cook and bottle washer, and boss. Iglauer's first release was by Hound Dog Taylor and the House Rockers, but it wasn't long thereafter that he started to produce and release albums by legendary Blues masters like: Lonnie Brooks, Koko Taylor, Albert Collins, Clarence Gatemouth" Brown, Son Seals, Lonnie Mack, Roy Buchanan, Johnny Winter, Elvin Bishop and many others. Additionally: Stevie Ray Vaughan, Robert Cray, Doctor John also made sidemen appearances on Iglauer's imprint.
"Pride and Joy: The Story of Alligator Records" was originally released in 1992 by filmmaker Robert Mugge, his documentary mainly focuses on the highlights from a four-hour concert that were part of Alligators twentieth anniversary tour. Performances by Katie Webster, Lonnie Brooks, Lil' Ed & the Blues Imperials, Koko Taylor, Elvin Bishop, and many other Blues luminaries who were mostly based in Chicago. Plus there's footage; a sneak-peek behind the doors of Alligator's Chi-town offices along with comments from Iglauer and his truest and Bluest employees.
This 2016 MVD Visual edition of "Pride and Joy: The Story of Alligator Record" will make its first appearance on Blu-ray disc, the total running-time is approximately ninety minutes. The original movie has been recently transferred to high definition (HD) from the original 16mm film; the stereo audio masters were supposedly restored by the director Mugge. Also included on this Blu-ray version are ten bonus songs taken from Alligator's original 1992 tour and soundtrack CD, as well as Mugge's new "making of" video; "Alligator Tales." "Pride and Joy" The Story of Alligator Records" offers a somewhat comprehensive view at one of the longest-running independent labels in America, whose specialty was/and still is Blues music. It's also about the Blues musicians (who mostly crafted their careers in the city known for Blues music) who contributed to Alligator's (soon to be) half-century of triumphs and a (second to none) back-catalog of Blues albums. By the way: Alligator Records seemingly hasn't shown any signs of slowing down anytime soon. Under Iglauer's guidance; Blues music continues its esteemed relevance, and appears to be more-than alright for many years to come.
For 17 years Bob Putignano has been pivotal with his Sounds of Blue radio show: www.SoundsofBlue.com – Previously a contributing editor at Blues Revue, Blueswax, and Goldmine magazines, currently the Music Editor for the Yonkers Tribune www.YonkersTribune.com & www.MakingAScene.org Bob was also the 2003 recipient of the "Keeping the Blues Alive" award (given by the Blues Foundation in Memphis) for his achievements in radio broadcasting. Putignano can be contacted at: BobP@SoundsofBlue.com