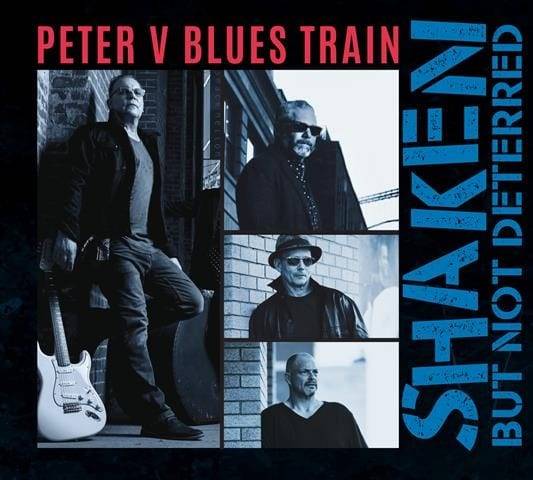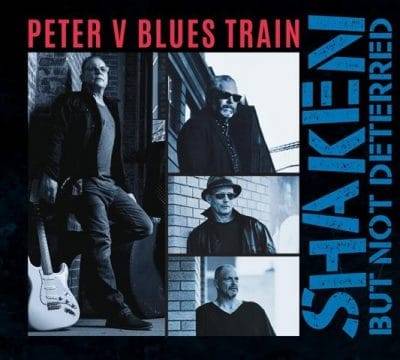 Peter V Blues Train
Shaken But Not Deterred
Independent
Peter Veteska learned to play guitar by listening to Eric Clapton and The Allman Brothers. As he grew older his musical tastes changed to jazz. In 2008, with more time on his hands, Peter was able to re-connect with his passion for playing. He formed the Peter V Blues Train in 2013. "Running Out of Time", the band's third album, was released earlier this year.
On "Shaken But Not Deterred" the core band remains unchanged. Peter V, guitar and vocals; is once again joined by Aron Gornish, keyboards; Sean "Gravey" Graverson, bass; and Alex D'Agnese, drums.  The album is engineered, mixed and co-produced by Joseph DeMaio at the Shorefire Recording Studios in Long Branch, N.J.
The nine originals are either written or co-written by Peter with his writing partner lyricist Joanne Cesario. The opener "Well I Don't Wanna Leave Memphis" is a classic shuffle about Peter's love for Memphis and Beale Street. The band represented the Jersey Shore Jazz and Blues Foundation at this year's International Blues Challenge. "Beale Street, all the people meet, Rum Boogie Blues, that's where I pay my dues". Special guests on the track are saxophonist Danny Walsh; and Jeff Levine on the Hammond B-3.
The funky "By The River" is reprised from the band's second album "On Track". It is remixed by DeMaio with some additional guitar from Bob DelRosso. Another funky tune "In Demand" features Peter pleading with his favorite girl. "Alibi" features Cesario's lyric "One bourbon too many, unaware of the change in beat, you yeah you, you are my alibi". Other highlights include "Rodeo" and the title track.
The selected covers include "Blue Monday" written by Dave Bartholomew and originally recorded by Smiley Lewis in 1954; two years later it was a huge hit for Fats Domino. "For All We Know" was recorded many times, my favorite version being the one sung by Art Blakely at the end of his career, this new version shows us that Peter is a darn good vocalist too. The "T-Bone Shuffle" is a blues classic and the band re-interprets it as a Chicago styled shuffle. The album closes with Big Maceo Merriwather's "Worried Life Blues" performed as a duet with Peter's acoustic guitar and Walsh's sax.
This is the band's best recording to date and it should keep The Peter V Blues Train right on schedule.
Richard Ludmerer
[amazon_link asins='B07JFPWPCR,B07B7N85J2,B07194G57N,B07JGNP19J,B07JF33YPB,B07B7NQ8MW,B07B7N7VKN,B07JGNPZ84′ template='ProductCarousel' store='maasc-20′ marketplace='US' link_id='1a5ae587-e355-11e8-811e-0fcc3c5c3f05′]