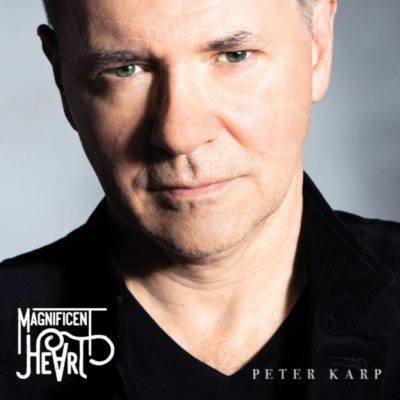 Peter Karp
Magnificent Heart
Rose Cottage Music
Peter Karp's music is fueled by blues and inspired by the Americana and roots music he grew up listening to. He writes about personal experience with detailed observations. This collection of songs is about people he met and experiences encountered "the triumphs and tragedies that you leave behind and await you as you move ahead. Only love, faith and a magnificent heart will see you through."
Guitarist/vocalist Karp opens with "Sitting On The Edge Of The World". He states the song was inspired by the novel "The Road". "I read it while I lived for a few days in the Reeperbahn in Hamburg Germany. The rain soaked lights in the red light district, the perfume of the street walkers, the ghosts of the young Beatles and "The Road" delivered me this post-apocalyptic love song." Kim Wilson's harmonica accompanies Karp as he sings "Here we are, sitting on the edge of the world. You say "you know just what you know." I say, "maybe its time I go." You say "why, why? It's getting good." I say "maybe that's why I should."
Karp says that "The Letter" could be autobiographical but adds that "everyone carries the letter". "A crumpled letter in my pocket with no one to mail it to." Karp plays piano as he is joined on the track by guitarist Paul Carbonara who solos, and bassist Edward Williams.
"She Breaks Her Own Heart" features the Memphis inspired Cold City Horns with trumpeter Jacob Wayne, and tenor saxophonist David Kasper. Karp's production also includes background vocalist Eyrn O'ree with the "shoop, shoops"; as he sings "She was a nightmare. She was a dream. It makes no sense and buddy it sure ain't smart, cause you out there looking for that girl who breaks her own heart." Karp adds "When people break up they blame each other…not so in this case, I don't kiss and tell. I write songs. Pure Fiction."
"This World" is a song of redemption. "We're living in a mixed up shook up world. Round and round we get lost in the swirl. But it's love and understanding and a little amen that picks us all up to get back on our feet again." Jim Eingher sits in on piano.
"The Grave" is a swampy groove featuring Karp's slide; Wilson again on harp; John Ginty on the B-3, and Karp's regular rhythm section of bassist Niles Terrat and drummer Michael Catapano. "The woman who believes in you wants to know what's bothering you, She says 'Tell Me everything, I'm your friend.' She says 'Talk to me baby, don't be afraid.' Some things are best taken to the grave."
Karp explains "Scared" is based on a poem by his late wife Mary Lou Bonney Karp "I took it and re-wrote it as a ballad while trying to keep the woman's perspective intact…My son James plays the solo. The circle is complete"; inspired by his son's solo, Karp delivers a great vocal. The gospel influenced "Chainsaw" is a humorous Dylan type song with the hook, "I'm out on a limb, and baby's got a chainsaw"; Jason Ricci is featured on harmonica.
The New Orleans inspired "Let It On Out" again features the horns and the rhythm section of Terrat and Catapano. "There's a Jackson Louisiana. There's a Jackson New Jersey too. No matter where you from when a stick hit a drum, everybody know what to do. They let it on out."
"Cool, Cool Thing" is a tribute to the late Tony Joe White featuring Ginty on the B-3. "The Last Heartbeat" is another great vocal from Karp who sings while Ginty plays in the background. "Going Home" is a soulful vocal as Karp plays his National, "This old body is full of rust and my mind is all a fuss. I got to go polish the chrome. I'm going home."
"Compassion" features Eingher's piano and an outstanding vocal with an introspective twist "Why do we feel each other's pain to give shelter and warmth in the cold and the rain? What brings the brothers and sisters through all kind of weather to empathize in love and share hardships together? Compassion." The closer "Face The Wind" features Ginty's organ, Karp's piano and a string section "in the end, we were born to face the wind".
Karp concludes "this record reflects where I've been and what I've experienced through growth, emotion, aspiration, conflict, love, loss and mortality. Is it a bit heavy? Sure! It better be…if you want to dance with me." This is the best yet from Karp, and an album deserving considerable recognition.
Richard Ludmerer