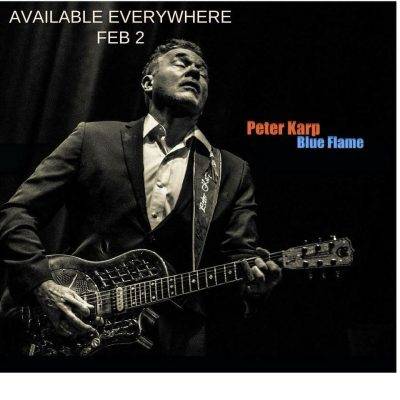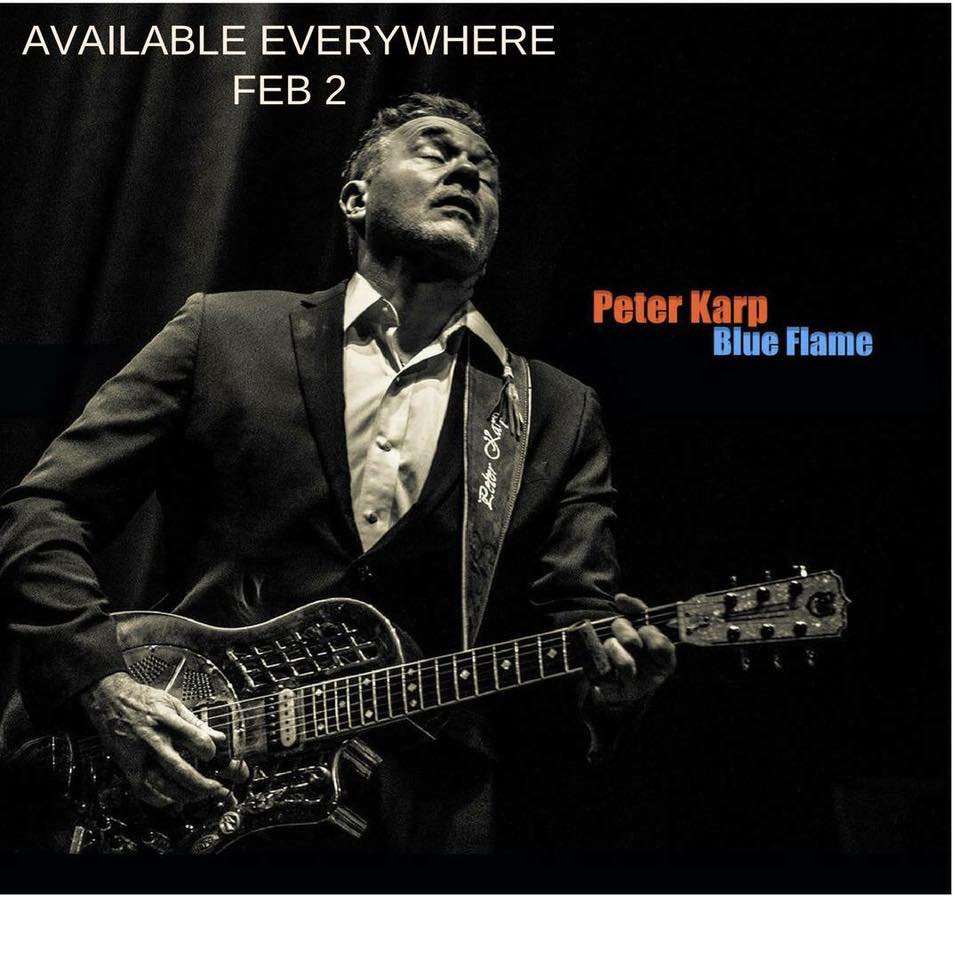 Peter Karp
Blue Flame
Peter Karp is soon to release a new album, Blue Flame. The title, according to the liner notes, comes from a conversation with the great bluesman and songwriter Willie Dixon. Dixon told Karp, "When it's honest and real it burns hot, like a blue flame."
Karp took those words to heart, and these songs deal with real personal issues and feelings to which listeners can relate. He handles it all with a wry humor and songwriting skill. Add to that Karp's strong, true voice, and ability to play a host of instruments including National steel guitar, harmonica, and various keys, plus a hand from some talented friends and it is no surprise that this is an excellent album. Some of the songs also appeared on Karp's album The Arson's Match in 2016, including "The Arson's Match," but even if you have that album, you will enjoy hearing them here along with the new songs. They fit together so well to tell a coherent story.
The first song, "Rolling On A Log," establishes a recurring theme in the album: trying to keep your balance no matter what life throws at you. In this case, life was throwing pretty hard stuff, but Peter's still on that log. Kim Wilson adds some tasty harmonica. Next, "Train O' Mine" brings up another theme, which is to keep on moving on, leaving trouble behind and heading for the next thing. It's a driving song with some great harmonica,
A change of pace comes with my personal favorite track, "Your Prettiness." Here Karp recites a long list of his woman's attributes that make you wonder where he found that "prettiness." She cusses, wears tacky clothes, has bad skin, bad teeth, messy hair, but hey, she's pretty. Karp's droll delivery here reminds me strongly of Lyle Lovett, a comparison I have made in writing of Karp's work before This song will make you laugh if you are not dead.
"Valentine's Day" is a lilting love song for a holiday that really does need more songs, In it, Karp lists all the things he appreciates about his woman and then in the spoken outro, he lists his offerings:"I've got the candy, I've got the flowers…:" This one is so much fun and you know it is getting played at our house on February 14.
The rocking "Treat Me Right" takes on a serious message in a deceptively light way as Karp explains how he told his woman she just doesn't treat him right. "The Turning Point" then takes us into a completely serious, yearning look into the heart of a man who knows things have to change. This is a true "blue flame" song.
"Loose Ends" returns to wry humor as Karp explains the ways the loose ends always get you. I could not help but compare it to Alanis Morrisette's "Ironic," though Peter's version is far more entertaining.
"The Arsons Match" is the title song from Karp's CD that I reviewed in 2016. That was a live recording from 2004 that was lost for nearly 10 years and then rescued and ultimately released. It features Mick Taylor and this track uses an upbeat blues style to tell the true story of how an arson burned Karp's house and everything he owned.
"From Where I Stand" has more than a touch of early Dylan in the delivery. It's a song about family and loss and not knowing what you have until it rushes by. "You Know" is straight up blues about the lessons you only learn alone in the dark. Fantastic harp on this one.
As we near the end of the album, "Round and Around" reminds me of the late Tom Petty as Karp examines the circular nature of relationships. "Young Girl" ends the recording with an old man delivering the message of it all to a young girl who doesn't know what to do: you keep on. Karp's raspy-voiced delivery of the old man's words is perfect.
Peter Karp is one of those people who is keeping the singer/songwriter tradition alive. Blue Flame is a worthy addition to that tradition and a must for your collection.
[amazon_link asins='B078Z1Y63X,B01MT2EA8Y,B007941E1E,B01CF29FC4,B078Z2FBC9,B000QEILO2′ template='ProductCarousel' store='maasc-20′ marketplace='US' link_id='979744c2-ffc6-11e7-b9c9-211deebeb112′]