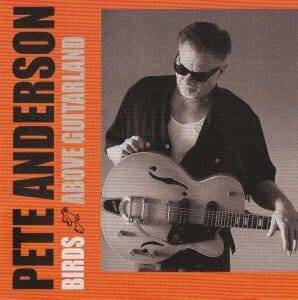 Pete Anderson
Birds Above Guitarland
Little Dog Records
Among his many accomplishments Pete Anderson is best known as the Grammy winning producer and lead guitarist for Dwight Yoakum. It's his guitar that can be heard on Yoakum's best selling Warner/Reprise albums including 1986's "Guitars, Cadillacs", 1987's "Hillbilly Deluxe", 1995's "Gone"; and 17 other Yoakum recordings. In 1997 Anderson released "Dogs in Heaven" on his own Little Dog label; also to critical acclaim. His first all Blues album was 2009's "Even Things Up".
This new album features Anderson on twelve new originals. The band includes Anderson, vocals, guitar, bass, harmonica, and percussion; Michael Murphy, organ, piano, strings and harmony vocals; Lee Thornberg, trumpet, French horn, and trombone; Ron Dzibula, saxophones; and five different drummers.
Producers Murphy and Tony Rambo achieve a great sound. They combine Murphy's keyboards and a tight horn section with Anderson's signature roots-rock guitar twang.
"Outta' The Fire" is a classic shuffle but the tone Anderson gets on his guitar is just phenomenal. "36 Hour Day" is a funky groove and Anderson takes a wicked guitar solo. On "Talkin' Bout Lonely" Anderson gets jazzy. "Talkin My Baby Down" is a bit of Honky Tonk. "Empty Everything" features some quality organ from Murphy. "I Got Mine" is a slow Blues. Anderson's voice is the best I've heard since he began recording on his own.
"Red Sunset Blues" is a bit of surf rock that evolves into classic film noir as it could be used in a movie. "Rock in My Shoe" might be the best song on the album and it is also reprised as a bonus track with a vocal by Bekka Bramlett; which should receive a significant amount of airplay.
Anderson is a prolific producer having produced over fifty albums for artists other than Yoakum. I would love for him to produce an album for Bramlett. He is smart enough however, and had the confidence in Murphy and Rambo, to let them handle the production on his own album.
This is the best I have ever heard from Pete Anderson.
Richard Ludmerer