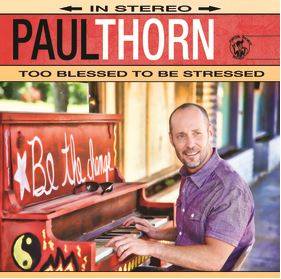 Paul Thorn
Too Blessed to Be Stressed
Perpetual Obscurity Records
"It's April 14th, 1988 and we're live from The Tropicana in Atlantic City New Jersey. In one corner, the former Lightweight, Welterweight, and Light Middleweight Champion of the World, Roberto Duran with a record of 82W-7L, in the other corner, Paul Thorn with a record of 9W-1L".
Here's the fight summary. Duran knocked down Thorn with a right in the 2nd round. In the 3rd a butt opened a cut over Duran's left eye. In the 4th Duran wobbled Thorn with a right. Between the six and seventh rounds the doctor stopped the fight. The winner was Roberto Duran.
Perhaps, there was no looser. Thorn went on to become a singer songwriter. In 2010 he released his 5th album "Pimps and Preachers" and if you ever get a chance to see Thorn live he may tell this story. Music won that day, 'cause if you see him once you'll be a fan for life. Thorn followed up with 2012's "What The Hell is Goin' On". His newest album "Too Blessed to Be Stressed" will be released in August.
Thorn's band has been with him for twenty years. Michael Graham plays keyboards; Bill Hinds guitar; Ralph Friedrichsen, bass, and Jeffrey Perkins, drums. The album is produced by Thorn and Billy Maddox who is also Thorn's co-writer.
Thorn's dry humor is abundant throughout the recording. "Backslide on Friday" is a poke at Thorn's personal foibles with nice slide guitar from Hinds. Michael Graham's organ adds to the good time sound.
The McCrary Sisters are featured on three tracks. They're roots are in gospel and they are the background singers that provide additional "joy" on the title track, "Too Blessed to Be Stressed", and on both "What Kind of Roof do You Live Under" and "Get You a Healin", the later written by Carlo J. Ditta.
"Mediocrity is King" is a bit more topical with the lyric "Republicans and Democrats are breakin' my heart, can't tell them sob's apart". "Old Stray Dog's and Jesus" is my personal favorite.
This new album should receive significant airplay. Thorn's music is fun.
Richard Ludmerer