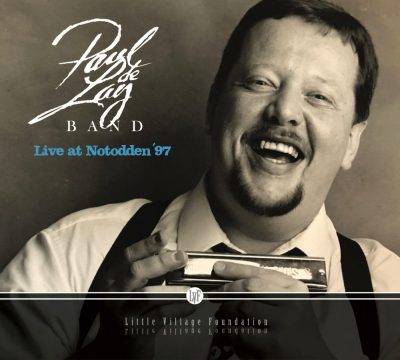 Paul de Lay Band
Live at Notodden '97
Little Village Foundation
De Lay was an original, a chromatic harp player who incorporated a jazzy tone into his music; and an inventive songwriter with the ability to express his personal feelings in the songs that he wrote. He had a keen sense of humor, loved a good pun and was one of a kind.
Paul Joseph de Lay was born in Portland, Oregon in 1952. His band was first formed in 1976. Their debut vinyl LP was 1982's "Teasin'" on the CIS Northwest imprint. Between 1984 and 1986 he released three more LP's on the Criminal Records label. In the late 1980's de Lay was suffering from alcohol and cocaine addiction. In 1990 he was arrested for drug trafficking and began serving a 41 month sentence at The Washington State Penitentiary in Walla Walla. As a tribute to him his band continued to perform as The No de Lay Band with Linda Hornbuckle as lead vocalist. While in prison two recordings, which had also been "in the can", were released; 1991's "The Other One" and 1992's "Paulzilla". After serving his sentence these recordings were re-packaged as 1996's "Take It from The Turnaround", that same year de Lay also released 1996's "Ocean of Tears", both on Evidence Records.
This live recording of The Paul de Lay Band was recorded at the Notodden (Norway) Blues Festival in 1997. The band lineup included de Lay, harp and vocals; Peter Dammann, guitar; Louis Pain, Hammond B-3; Dan Fincher, saxophone; John Mazzocco, bass; and Mike Klobas, drums.
No one even knew this concert had been recorded. Back in 1998 the Notodden Festival issued a 10th anniversary compilation with, "What Went Wrong", a song taken from this performance. Last year Pain and Dammann began to inquire whether more of their set might exist.
Vocally de Lay sounds a bit like Andy Devine but with a whole lot of soul. The recording demands that you play it loud so that you might hear every little nuance that was de Lay. The eleven track set includes "What Went Wrong" from their "Ocean of Tears" album and nine more originals; including five from their then not yet released "Nice and Strong" recording. Highlights include "Wealthy Man", "I Can't Quit You No" and an absolutely fabulous cover of Muddy Waters' "Come Home Baby (I Wish You Would)". The band is solid throughout the recording.
In 1999 de Lay received a Blues Music Award nomination in the category of Best Instrumentalist – Harmonica. His untimely death on March 7th, 2007 was a shock to the blues world. Rick Estrin says "If the world were a hipper place, Paul de Lay would have been a superstar".
This "out of this world" performance may be the Historical Album of The Year.
Richard Ludmerer
[amazon_link asins='B0000014QM,B0000014QA,B00000GV5A,B00CML06IG,B0000014Q7,B00005MKEM,B000QUTS1Q,B00000375L,B00000375K' template='ProductCarousel' store='maasc-20′ marketplace='US' link_id='3c742188-8db5-11e7-8b06-350587399c06′]