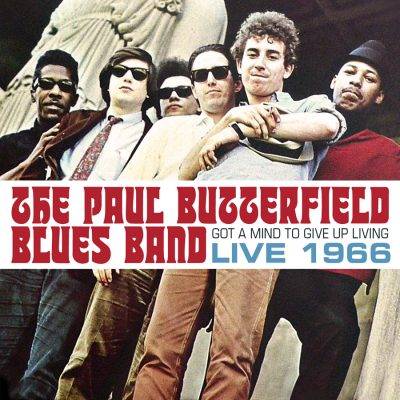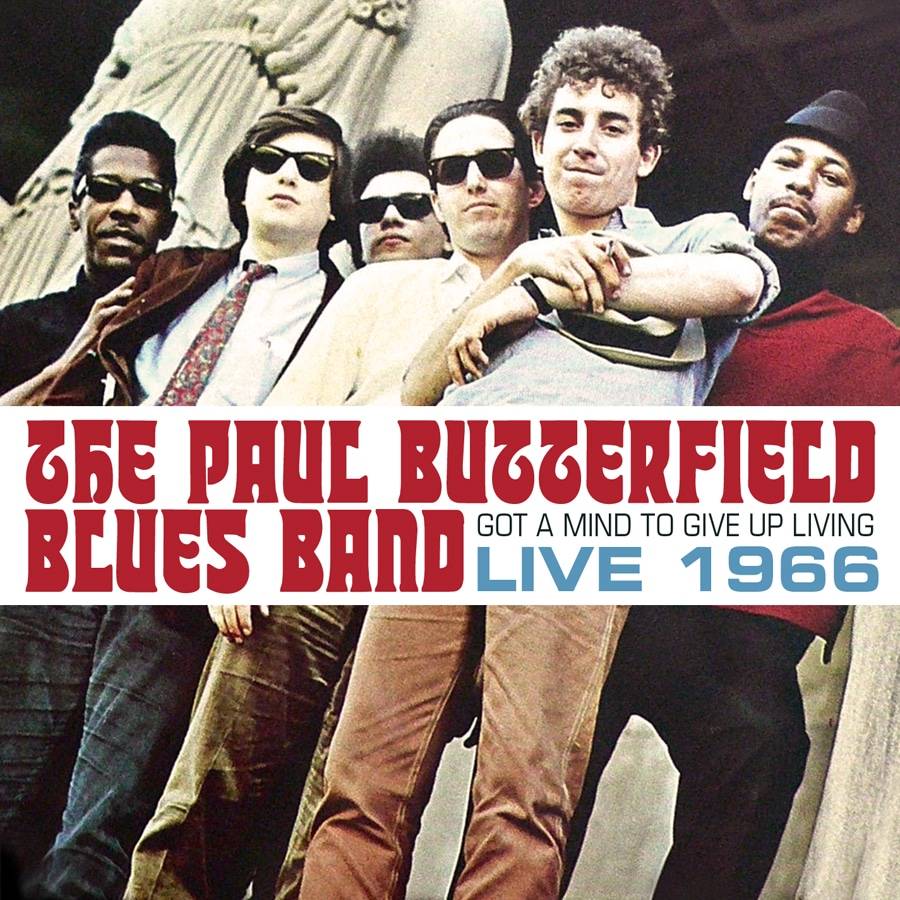 The Paul Butterfield Blues Band "Got a Mind to Give Up Living: Live 1966"
www.RealGoneMusic.com
"Got a Mind to Give Up Living" is a live performance from (fifty years ago) May of 1966 recorded at the Unicorn Coffee House in Boston, MA, two months prior to the groundbreaking Elektra LP "East – West." Previously this has been floating around as a bootleg but Real Gone claims that this 2016 edition is the first legitimate version; the physical disc also has the Elektra logo on it too. Thirteen tracks are included with a total runtime of approximately one hour. There aren't any track lengths listed so I had to make my own clock-time calculations. Butterfield's band consisted of; guitarists Mike Bloomfield and Elvin Bishop, organist Mark Naftalin, bassist Jerome Arnold, Chicago drummer Billy Davenport (Sam Lay left after the band's debut album,) and on vocals and harp; Paul Butterfield.
The opening (1:34) "Instrumental Intro" is followed by a roaring "Look Over Yonders Wall" sets the tone for the evening, Nick Gravenities "Born in Chicago," features a blazing solos from Butterfeild and Bloomfield. "Love Her with a Feeling" decelerates the tempo with a tasty Blues guitar introduction by Bloomfield, Butterfield vocals are good but he splits the roof off with another blazing harp solo, not to be outdone Bloomfield responds with his own guitar eruption's. The funk from Allen Toussaint's "Get out My Life Woman" seems a bit out of place and uncomfortable for the band to wrap their chops around. The traditional "Never Say No" sounds like Elvin Bishop's vocal is sleepy and strange. Smokey Robinson's "One More Heartache" gets a hardcore makeover and shot of adrenalin. Stretch out time on Nat Adderley's classic "Work Song" (12:33) mostly known as a Bluesy Jazz tune was uncommon for a Blues band to cover. Yet amidst a few missteps from Bloomfield's early guitar passage he leaps into upper stratosphere with profound energy, Butterfield retaliates with his own harp blast as they tear it up and remake "Work Song" as if it was their own authored song, especially during the last two minutes where everyone takes short but intense solos. Staying with Jazz covers Ben Tucker's "Coming Home Baby" (7:18) opens their second set, Bloomfield doesn't take long to fire searing guitar riffs, Butterfield counters with his own harp frenzy, Natalin's organ is often weird and his solos are no exception here. Percy Mayfield's cover of "Memory Pain" is a jaunt that meanders without a rudder and needs a life-raft. The title (traditional) tune is a slow Blues burner (6:36) that takes a little while to ignite, liftoff ensues with Butterfield's torrid harp solo – followed by Bloomfield's intense guitar blasts. The straight Blues of "Walking by Myself" gets the Butter band treatment with riveting chord blasts and another crackling Bloomfield guitar rev-up. The finale: "Got My Mojo Working" is given a Jazzy treatment via Bloomfield's guitar chords that doesn't last long as Naftalin's keyboard fire-up Bloomfield who briefly blasts-off as Butterfield seemingly signals to slow it down and closes the set. Goodnight.
Journalist Chris Morris orates solid liner notes, plus supposed rare photos add allure to this top-shelf package that I would categorize as "historic" for its content and performance execution, that offered a sixty minute glimpse of what was about to become for Butterfield and his bandmates. This edition of The Paul Butterfield Blues Band time together was far too short, but with fifty years past the performance date – makes this release momentous and essential. Leaving one mystery: How did Real Gone obtain the Elektra imprint utilized on this physical disc?
For 17 years Bob Putignano has been pivotal with his Sounds of Blue radio show: www.SoundsofBlue.com – Previously a contributing editor at Blues Revue, Blueswax, and Goldmine magazines, currently the Music Editor for the Yonkers Tribune www.YonkersTribune.com & www.MakingAScene.org Bob was also the 2003 recipient of the "Keeping the Blues Alive" award (given by the Blues Foundation in Memphis) for his achievements in radio broadcasting. Putignano can be contacted at: BobP@SoundsofBlue.com
https://youtu.be/e3LEhfbKCSc