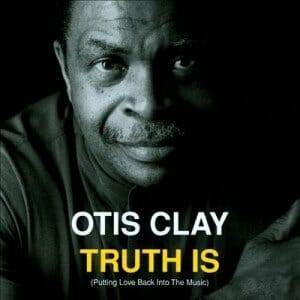 Otis Clay
Truth Is (Putting Love Back into The Music)
Echo Records
Otis Clay was born February 11th, 1942. He sang in church and became a gospel singer. After moving from Mississippi to Chicago he was a member of the Sensational Nightingales. Clay also had a contract with One-derful! a record label, that wanted him to record secular music. Clay recorded for them in 1965 and had his first national R & B hit in the summer of 1967 with "That's How it is (When You're in Love).
Clay also recorded for Atlantic Cotillion where he first worked with producer Willie Mitchell. He released a version of The Sir Douglas Quintet's "She About a Mover" in 1968. He continued to work with Mitchell at Hi Records and in 1972 released "Trying To Live My Life (Without You)" which became his biggest seller. In 1980 he recorded "The Only Way is Up" on his own Echo Records label. The 1990's saw Clay record two soul albums for the Bullseye Blues/Rounder label including 1998's "This Time Around" produced by Willie Mitchell. In 2005 he released "Respect Yourself", on Blind Pig Records, recorded live at the Lucerne Blues Festival. Clay continues to tour and record. Recently he released "Soul Brothers", a collaboration with Johnny Rawls.
For this project Clay reunites with two old friends. Pianist Tom Tom Washington is also arranger and producer on nine of the fourteen tracks. Songwriter Darryl Carter worked for both Stax and Hi Records and he has co-authored seven of the songs. The fabulous opening track "Love's After Me" was written by Carter with Washington and Clay. "Even When I Win (Seems Like I Lose)" was written by them along with guitarist Paul Richmond. Five more songs including my favorite "That's What You Ought To Do"; the title track "Truth Is"; and "All That's Missing is You" are from the team of Carter and Jonah Ellis.
"I Know I'm Over You" was written by Willie Mitchell and recorded live at The Monterey Bay Blues Festival. "Steal Away to the Hide Away" is a duet with singer Uvee Hayes and is co-produced by Washington along with St. Louis disc jockey/producer Bernie Hayes.
My other favorites include "Even Now" from the songwriting team of David Egan and Buddy Flett; "Walk a Mile in My Shoes" from Joe South; "The Only Way is Up" which is reprised here; and "I Keep Trying" with a horn arrangement from Fred "Honeyboy" Johnson.
Clay's voice is as emotive as ever; you can hear the love. Last year Clay was a 2013 inductee into the Blues Hall of Fame. As albums go this is one of last year's best. This is a must to own.
Richard Ludmerer