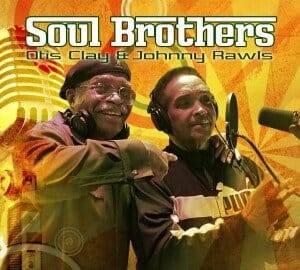 Otis Clay and Johnny Rawls
Soul Brothers
Catfood Records
Soul Brothers Otis Clay and Johnny Rawls are quite a pair. Otis Clay has recorded for Cotillion, Hi-Records, Bullseye, Blind Pig, and the Echo record imprints. He is a 2013 Blues Hall of Fame inductee.
Rawls was O.V. Wright's musical director and guitarist and his last recording 2013's "Remembering O.V." received a Blues Music Award nomination. Overall Johnny Rawls has 13 BMA nominations and won in 2010 for "Soul Blues Album of The Year".
This new album is produced by Rawls and it features "The Rays". They used to be called Kay Kay and The Rays but Kay Kay Greenwade passed in 2012. Rawls was her producer and he along with Bob Trenchard produced Kay Kay and The Rays 2001 "Texas Justice" album. Today the Ray's consist of Trenchard, bass; Richy Puga, drums; Johnny McGhee, guitar; Dan Ferguson, keyboards; Andy Roman and Nick Flood, saxes; Mike Middleton, trumpet; Robert Claiborne, trombone; and background vocalists, The Iveys.
In 2012 the songwriting team of Rawls and Trenchard received a BMA nomination. They are reunited here as they co-wrote both "Voodoo Queen" and "Living on Borrowed Time". The exceptional "Road Dog" was written by them and Clay and I can see it getting a lot of airplay. "Hallelujah Lord" is from Rawls. "Poor Little Rich Girl" was co-written by Trenchard and Al Basile and it's another winner as the band nails it. "Momma Didn't Raise No Fool" is a piece of funk from the songwriting team of Darryl Carter and Jose Hernandez.
They've included four covers. "Only You Know and I Know" was written and recorded by Dave Mason; it was also recorded by Delaney and Bonnie. It is performed here as a Sam and Dave styled duet. "What Becomes of The Brokenhearted" was popularized by Jimmy Ruffin. "Turn Back The Hands of Time" was a big hit for Tyrone Davis. "Waiting For Dreams" is from Greenwade and it was co-written with Trenchard. These are fabulous performances.
With each listening I like this recording more and more. The songs remain interesting as Clay and Rawls exchange vocals. Better get this one!
Richard Ludmerer