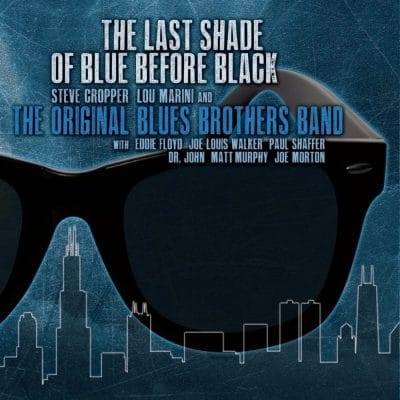 The Original Blues Brothers Band
The Last Shade of Blue Before Black
Severn Records
The Original Blues Brothers Band is a band that began as a one time skit on "Saturday Night Live" in 1978. They backed up Joliet Jake (John Belushi) and Elwood Blues (Dan Aykroyd). The band was an overnight sensation making several best selling albums and two top grossing movies. For years the band has been touring in one form or another. Some of the original members are still in the band while others have been recruited over the years. Rather than just list the band members. Let's look at the songs.
They open the recording with the Jimmy Reed classic "Baby, What You Want Me To Do" arranged by "Blue Lou" Marini, one of the original members, who also plays saxophone throughout the recording. The album is co-produced by Marini along with Steve Cropper and The O.B.B.B. The vocal is shared between Bobby "Sweet Soul" Harden, Tommy "Pipes" McDonnell, and harpist Rob Paparozzi. John Tropea takes a guitar solo while the horn section features Tom "Bones" Malone, trumpet; and Baron Raymonde, alto sax.
"Cherry Street" written by Delbert McClinton, Kevin McKendree and Gary Nicholson is also arranged by Marini. The lead vocal is by McDonnell; while Birch Johnson, trombone, joins the horn section. Raymonde takes the alto sax solo.
Steve Cropper and Eddie Floyd's "On A Saturday Night" is arranged by Malone who plays baritone sax while Floyd handles the vocal.
Willie Dixon's "Don't Go No Further" is sung by Joe Louis Walker while Matt "Guitar" Murphy takes a guitar solo. Harpist Paparozzi plays a chromatic but it's McDonnell who takes the harp solo. The trumpet solo is by Steve "Catfish" Howard.
"You Left The Water Running" was written by Dan Penn, Rick Hall and Oscar Franks. Harden sings lead while Malone, Paparozzi and Marini become background singers. David Spinoza plays acoustic guitar. The horns include Malone on baritone sax; and Marini on a tenor.
James Brown's "Sex Machine" is arranged by Paul Shaffer and Malone. Shaffer sings and takes a piano solo. Fats Waller's "Your Feet's Too Big" features Paparozzi, lead vocal and harmonica; while Rusty Cloud takes a piano solo. "21 Century Baby" was written by Paparozzi who once again sings lead. "Blues in My Feet" written by Cloud also features his vocal.
Dr. John "The Nite Tripper" sings and plays piano on "Qualified" which first appeared on his 1973 album "In The Right Place".
The classic "I Got My Mojo Working" arranged by Marini features vocalists Paparozzi, Harden, McDonnell, and Joe Morton. The latter appeared in the second Blues Brothers movie.
The closer is the title track "The Last Shade of Blue Before Black" written by Marini who also sings lead. John Tropea is featured on guitar.
The band also includes Cropper, guitar; the late Eric "The Red" Udel, bass; Lee "Funkytime" Finkelstein, drums; Leon "The Lion" Pendarvis, organ; and Steve "Trombonious" Farrell, trombone.
This album is dedicated to Udel, Donald "Duck" Dunn, and Alan "Mr. Fabulous" Rubin. A special thank you has to go to Severn Records for this wonderful recording.
Richard Ludmerer
[amazon_link asins='B074GR8HYG,B00H2VJKN8′ template='ProductCarousel' store='maasc-20′ marketplace='US' link_id='cc6a79c4-b07d-11e7-99c1-a1e89cf50108′]