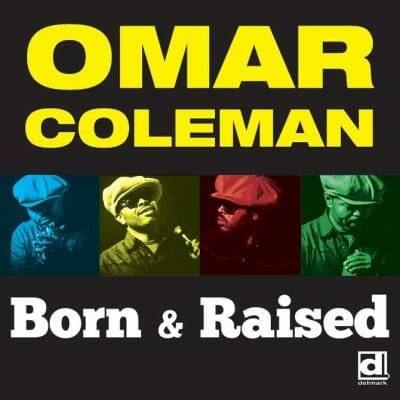 Omar Coleman
Born & Raised
Delmark Records
Omar Coleman was born in Chicago in 1973. He didn't begin to play the harmonica until 2003. Coleman appeared on Severn records' 2006 "Diamonds in The Rough: Chicago Harmonica Project" produced by Twist Turner and Rick Kreher. In 2010 Coleman was asked to join the 2007 IBC winning Sean Carney Band and toured with them internationally. Coleman released his first album "Very Lucky Man" with Carney and followed up with his sophomore effort 2011's "West Side Wiggle" with special guests Kenny "Beedy Eyes" Smith, Billy Flynn and Bob Stroger. Coleman also appears on "Sean Carney's Blues for a Cure" released in 2012. This new album is Coleman's third.
The band on this album is Coleman, vocals and harp; Pete Galanis, guitar; Neal O' Hara, keyboards; Ari Seder, bass; and Marty Binder, drums and percussion. The album was produced by Steve Wagner and recorded at Delmark's Riverside Studio in Chicago on January 18th and 19th, 2015.
Coleman has written or co-written twelve of the fourteen songs included. The title track "Born and Raised" tells Coleman's story.
Chicagoan Toronzo Cannon appears on both "Man Like Me" and "You Got a Hold On Me". Cannon, who just signed with Alligator Records, plays some awesome guitar. Coleman's harp and vocal are right on the money. O'Hara, who also appears on Mississippi Heat's 2014 "Warning Shot" album, provides great piano. The rhythm section of Seder and Binder lay down the strong foundation.
We really get to hear Coleman's soulful voice on "I Was a Fool" and on "Wishing Well". These feature nice guitar solos from guest Mike Wheeler.
Guitarist Dave Herrero guests on and co-wrote with Coleman, both "Slow Down Baby" and "Tell Me What You Want". On the former Coleman takes an extended harp solo. The later is another great vocal from Coleman.
"Lucky Man" features guitarist Galanis with O'Hara on the organ. Galanis also takes a terrific guitar solo on "One Request".
Coleman and bassist Seder have co-written both "I Don't Want No Trouble" and the fun closer "Raspberry Wine" with the entire band joining in on the chorus. The band is solid throughout the recording as every track could receive airplay.
Coleman, who is only in his early 40's, states that his biggest influences are Muddy Waters, Buddy Guy, Junior Wells, O.V. Wright, and Bobby Rush. Coleman will be around to carry on their traditions for many years to come.
Richard Ludmerer