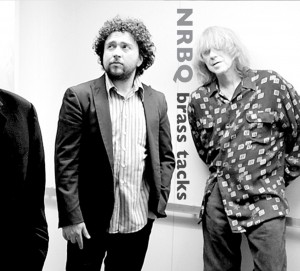 NRBQ "Brass Tacks" www.NRBQ.com Clang! Big Notes www.TerryAdams.com
Terry Adams has been at the helm of NRBQ (New Rhythm & Blues Quartet) for forty-five years. But even though the Q has gone through several band-member revisions, this latest bunch has been with Adams for several albums now. What's interesting is that these new members (while younger than previous NRBQ members) intermingle well with the band-leaders quirky and kooky songwriting skills and artistic offerings. The latest musicians are Scott Ligon on guitar, piano, vocals and banjo, drummer Conrad Choucroun who has been with the band for seven years, and bassist-vocalist Casey McDonough who's been onboard for the past two years. This is their third recording together since Adams reconceived and reassembled NRBQ in 2011. Twelve tracks are included, four authored by Adams, one by Jim Hoke of the Whole Wheat Horns, six others by the current band-members, plus a cover of "Getting To Know You" by Rodgers and Hammerstein.
Scott Ligon's "Waiting on my Sweetie Pie" opens the disc in rockabilly fashion that fits well within NRBQ's legacy. Adams' hilarious "Greetings from Delaware" is about doing business with credit card companies in Delaware, it's also reminiscent of previous Q tunes, with some Beatles overtones, and a "Me and the Boys" feel. Adams' "This Flat Tire" is about conversations between four tires on a car, its typical NRBQ zaniness songwriting. Adams' "Places Far Away" exhumes the haunting piano sounds and styles of Sun Ra, who has been a subject of attention and has influenced Adams since NRBQ's earliest recordings, ready to travel the space-ways? McDonough's "Can't Wait to Kiss You" is a short (1:47) and light but it's a sweet pop track that shuffles along smartly. Adams and Ligon collaborate on the somewhat bluesy yet airy "I'm Not Here" that includes a banjo solo from Ligon. Then there's Rodgers and Hammerstein's "Getting to Know You" that's irreverent yet tasty. The disc closes with the Adams, Ligon, and McDonough "Love This Love We Got." Adams tinkles the ivories sharply here in a honky-tonk way; the boys harmonize attractively (at times humorously) on this appropriate song that closes this latest chapter of NRBQ.
I've always thought highly of Terry Adams piano playing and felt he never received the appropriate kudos for his creativity and superb chops. He's so unique (at times) blending and bending the likes of Jerry-Lee Lewis and Sun Ra, how's that for a pairing? Yet I wish (like their name) there was more of an R&B and Blues tinge on this album. That being said this recording is (somewhat) genre dissimilar to early versions of NRBQ (especially from their classic lineup of Al Anderson, Joey Spampinato, and the deceased Tommy Ardolino.) But there's no doubt that under Adams' tutelage this edition of NRBQ captures and maintains the core nuances and quirkiness of any and all previous versions of NRBQ. So I am very impressed to hear their old-school familiar antics, along with a new flare for staying fully committed to carrying their unique banner into 2014 and (hopefully) onward. May they keep on keeping on with their one of a kind status that has always conjured new musical concepts for your ears and mind. Enjoy.
For fifteen years Bob Putignano has been pivotal at WFDU with his Sounds of Blue radio show: www.SoundsofBlue.com – Previously a senior contributing editor at Blues Revue, Blueswax, and Goldmine magazines, and Music Editor for the Westchester Guardian. Putignano can be contacted at: bob8003@yahoo.com
Bob Putignano: www.SoundsofBlue.com
Weekly Music Editor at: https://www.WestchesterGuardian.com – NYC area Newspaper Now celebrating 15 + years on the air at WFDU https://wfdu.fm