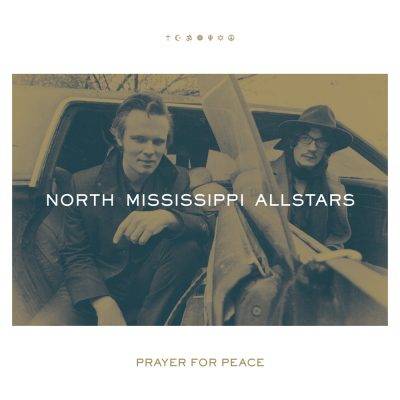 North Mississippi All-stars
Prayer For Peace
Sony Legacy
The North Mississippi All-stars were formed in 1996 by Luther and Cody Dickinson the sons of Memphis record producer Jim Dickinson. The North Mississippi Allstars released their first studio album "Shake Hands With Shorty" in 2000. That album received a Grammy Award nomination for "Best Contemporary Blues Album" and won the 2001 Blues Music Award for "Best New Artist Debut". They have since gone onto receive two additional Grammy nominations.
Individually Cody received a 2013 Blues Music Award nomination as Best Instrumentalist – Drums. Guitarist Luther was nominated for two 2017 BMA's of his own; one for "Acoustic Artist of The Year" and another for "Acoustic Album of The Year" for his 2016 recording "Blues & Ballads A Folksinger's Songbook: Volumes I & II". Luther's other projects have included The John Hiatt Band, the South Memphis Jug Band, The Black Crowes, and The Wandering. In 2010, after the passing of their father, The North Mississippi Allstars reunited to release "Keys To the Kingdom" and followed up with 2013's "World Boogie is Coming".
This is the North Mississippi All-stars eighth studio recording and nineteenth album overall. Luther, guitar and vocals; and Cody, drums, piano, and vocals; are joined by bassists Oteil Burbridge and Dominic Davis; singer/fife player Sharde Thomas; and vocalists Sharisse Norman and Danielle Nicole. The album was recorded at six different studios including the Royal Studios in Memphis and their own Zebra Ranch Studio.
Luther has written three new songs. The title track, "Prayer For Peace", includes the lyric "color blind, color blind, color blind, wish we could be color blind". The whole ensemble excels on this fabulous production. The other two songs by Luther are "Mississippi, we all Need To Be Free" and "Run Red Rooster" featuring Luther on slide.
The North Mississippi All-stars used to run with R.L. Burnside and they pay tribute to him by including three of his songs; "Bird Without A Feather", "Miss Maybelle", and "Long Haired Doney"; the latter co-produced by Boo Mitchell.
Two songs come from Mississippi Fred McDowell; "61 Highway" and"You Gotta Move". Guitarist Kenny Brown who used to play with Burnside is featured along with bassist Nicole.
I first heard Gus Cannon's "Stealin'" in 1969 when it appeared on Dave Van Ronk's "Ragtime Jug Stompers" album. The traditional "Deep Ellum Blues" was recorded by both Doc & Merle Watson and also by The Grateful Dead.
"Bid You Goodnight" is a beautiful gospel piece written by Aaron Neville. It would be the last song but the All-stars include a remixed version of "Prayer For Peace" to close out the album.
This exciting album is already being hailed as the North Mississippi All-stars best and most creative to-date.
Richard Ludmerer
[amazon_link asins='B06XKCLWR2,B00DX88GAW,B004GX18OO,B001NJY64I,B0010VD7EY,B0009Y26PE,B00049QMVS' template='ProductCarousel' store='maasc-20′ marketplace='US' link_id='96493108-3ef8-11e7-a881-25823622d7c4′]
Making a Scene is an AD supported resource. We really appreciate everyone who supports us by using these ads to shop for things that interests them. Each click on an ad helps us pay for our server and keep Making a Scene the best Indie Music Resource available!