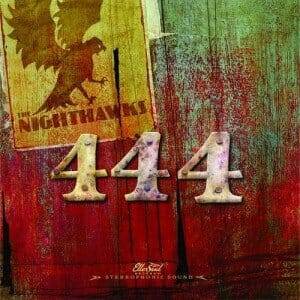 The Nighthawks
444
EllerSoul Records
The Nighthawks, one of my favorite Blues bands, were formed in 1972. In 1986 they released "Hard Living" on the Varrick label and the next year followed with "Backtrack".
Soon after these albums were released Jimmy Thackery left the band. My interest was revived again in 1996 when they recorded "Pain and Pleasure" on Big Mo' Records. And it happened again in 2009 when they released "American Landscape" this time on Powerhouse Records. Since then I've been awaiting each new release as if it were a welcome fix and in many ways it is.
The band has been led for the last forty years by harp player Mark Wenner. Since 2004 he has been joined by Paul Bell, guitars and Johnny Castle, bass. Mark Stutso has been their drummer for the past five years.
The band has always mixed originals and covers. I believe it's one of thereasons why they are so loved. Included on this newest recording is "Walk That Walk" an old gospel tune from The Du Droppers; a new version of Muddy Waters "Louisiana Blues"; two Elvis songs featured in his movies "Got a Lot of Livin" and "Crawfish"; "Price of Love" from The Everly Brothers; and "Livin' The Blues" co-written by Tracy Nelson and Nashville's Gary Nicholson.
Wenner contributes the Stones-like "Honkey Tonk Queen" and "No Secrets". Castle has written the title track "444 AM", the country-ish closing track "Roadside Cross", and co-written with Bill Kirchen "High Snakes".
The Nighthawks are as cohesive a unit as you could want. They enjoy playing together and their positive energy is contagious. This is one of the bands that made me love this music. I am one of their blues disciples anxiously awaiting their next appearance and there are many of us. Please save me a seat.
Richard Ludmerer
To Listen to and Purchase "The Nighthawks 444" Click Below