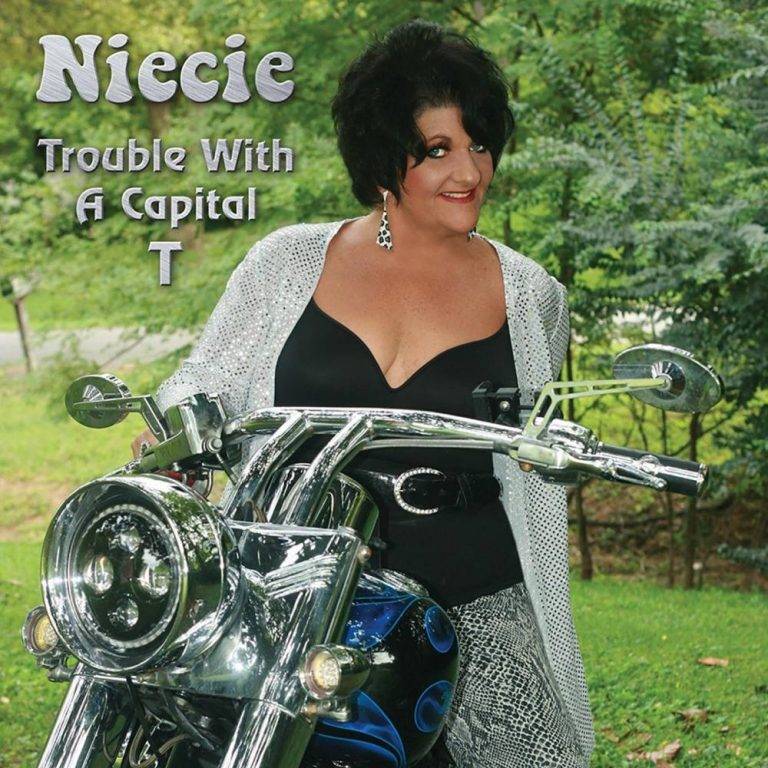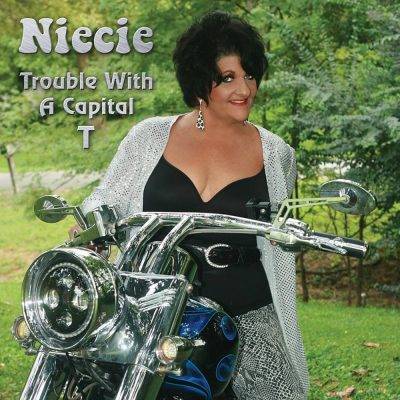 Niecie
Trouble With A Capital T  
Ride The Tiger Records
Niecie was born in Detroit but prefers to tell people she was "born and raised in Motown". During an early gig with a rock band in Lincoln Nebraska, vocalist Niecie was heard by Magic Slim who told her "Girl, you need to sing the blues". Soon she was appearing with Slim at Lincoln's famous blues club, the Zoo Bar.
Niecie spent residencies in Chicago, Las Vegas, and Los Angeles before relocating in Nashville to concentrate on her songwriting. In 2003 she co-produced her debut album "Piece of My Mind" with drummer Nioshi Jackson. She followed up with 2011's "Beyond the Surface" also co-produced by Jackson and featuring former Allman Brothers keyboardist Johnny Neel.  Since then she has shared the stage with Koko Taylor, Larry McCray, Anthony Gomes, Shaun Murphy and many others.
Niecie enlisted Neel as her producer for both 2013's "Wanted Woman" and 2014's "The Other Side". Rave reviews boosted her career to new heights. "Trouble with a Capital T" is Niecie's fifth release, and third with producer Neel.
The musicians on "T" include vocalist Niecie; Producer Neel, keyboards; Chris Anderson formerly of The Outlaws, guitar; either Dennis Gulley or Randy Coleman, bass; and Daryl Burgess, drums. A horn section is added on two tracks. Five different background vocalists including Nashville's Shaun Murphy help complete the production.
Niecie, who Cashbox magazine once described as a "Raw and soulful…rocking blues powerhouse", has co-written five songs with Grammy winning songwriters Neel and Kim Morrison; and guitarist Doug Jones. "Memphis Stomp" is a fabulous tune with a danceable beat featuring Richard Griffin on sax, and trumpeter Joe Gross. The slow dramatic ballad "Waiting for the Shoe to Drop" features some great soloing from guitarist Anderson with Neel on piano. On "Two Can Play That Game" Neel switches to the B-3 with Murphy supplying the background vocal; while on "Rise Up" Niecie is joined by both Murphy and Neel. These are well written songs with fabulous vocal performances.
The rockin' "Thank God for Fools" was written by Anderson; Niecie sings "everyone wants to be a hero" before Anderson and Neel take their respective solos. The title track written by EG Kight and another Grammy winning songwriter Richard Flemimg, features Jon Conley sitting in on guitar.
Two more great songs, "Two Sides To Every Story" and "Baby It's Working", were written by Neel, Jones and Kight. Other standouts include "Sweat" with a great sax solo from Griffin; and the closer "Just This Side of Memphis" again featuring Neel on the B-3.
Niecie and producer Neel have assembled some of Nashville's finest musicians. Check out this great new album from songstress Niecie.
Richard Ludmerer
[amazon_link asins='B07K6YW4MP,B00P9NQAWU,B000EO6N0S,B005K15W98,B00GCG1MK8,B076663DYR' template='ProductCarousel' store='maasc-20′ marketplace='US' link_id='f5f07685-0c4e-11e9-8ecf-231fa2b9f282′]