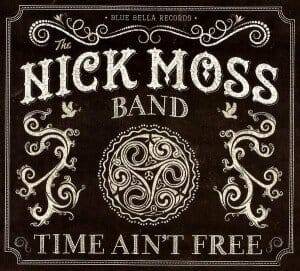 Nick Moss Band
Time Ain't Free
Blue Bella Records
I first heard Nick Moss at the Blues Music Awards in Memphis. Moss had collected nominations in every category including Best New Artist (2003), Best Instrumentalist Guitar (2007), Best Contemporary Album (2004), Best Traditional Album (2007's "Live At Chan's"), and 5 times as Band of The Year. Moss then began to further expand his music and again received nominations in the Blues Rock category for both 2010's "Privileged" and 2011's "Here I Am". The metamorphosis continues on this newest album from Blue Bella Records.
Now Moss casts the band as a seventies southern rock or jam band unit. As bandleader he introduces us to his newest band member, Michael Ledbetter, and relinquishes some vocal chores in the process. Moss is still lead guitarist, while Ledbetter, plays rhythm guitar. Brian Rogers is on keyboards; while Matthew Wilson, bass and Patrick Seals, drums, lay down the strong foundation. The addition of Ledbetter completes the bands transition into a versatile powerhouse.
Opening with "She Wants It", Moss' guitar and soulful vocal are familiarly energetic while the background vocalists add just the right touch. On "Was I Ever Heard" Ledbetter sings backup to Moss. Moss has written eight new songs and co-written three more with Ledbetter. Ledbetter takes center stage on "Light It Up" and again on "Fare Thee Well". On the later it's Ledbetter's lyrics. Ledbetter also sings on his own passionate composition "I Want the World to Know" as Moss lights it up with his fabulous guitar. Moss covers Son House's "Death Letter Blues" and his vocal and guitar performance make it one of my favorite tracks on this fine album. On "No Reason" they sound like The Allman Brothers. Ledbetter takes the vocal reins again on Rod Stewart and Ian McLagan's "Bad n' Ruin".
This is a great new album that will appeal to blues aficionados and to those who love classic rock. Moss continues to stretch out and reinvent himself and the results are inspiring.

Richard Ludmerer