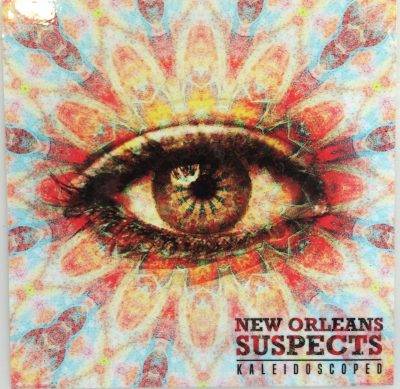 New Orleans Suspects
Kaleidoscoped
Louisiana Red Hot Records
This band first played together in 2009 at The Maple Leaf Bar; they called themselves The Unusual Suspects. They decided to tour in 2011 and renamed themselves The New Orleans Suspects. That same year they released their self-titled first album. They followed up with 2012's "Caught Live at The Maple Leaf". In 2014 they released their second studio album "Ouroboros" also on the Louisiana Red Hot imprint. This is only the bands third studio recording although two more live albums are in existence.
The New Orleans Suspects include some of the cities finest. They consist of Jake Eckert who spent ten years with The Dirty Dozen Brass Band and is also a former member of The Larry Carlton Band, guitar and vocals; CR Gruver who has played with his band Polytoxic, and later with southern rockers Outformation and ex-Meter Leo Nocentilli, keyboards and vocals; Jeff Watkins who worked twelve years with James Brown, sax and vocals; "Mean" Willie Green who spent thirty-five years with The Neville Brothers, drums; and bassist Reggie Scanlan who spent thirty-four years with The Radiators.
The album opens with the apropos titled "Let's Get It Started" written by Gruver. This a funky New Orleans anthem from the band. The horn section includes special guest Lee Thornburg, trumpet, from Tower of Power; Ian Smith, trumpet and trombone; and Paulie Cerra, tenor sax, who has worked with Lucky Peterson and Kim Wilson. Included are solos from Watkins, sax; Eckert, guitar; and Gruver, keys. If you don't get up and dance you need your pulse checked.
"Cocaine Jane" was co-written by Eckert and Watkins. The muffled lead vocal is followed by an infectious chorus. Eckert and Watkins both get a chance to solo.
"Dixie Highway" was written especially for this project by Paul Barrere of Little Feat who guests on guitar and sings the Dr. John styled vocal. Fred Tackett also from Feat sits in on mandolin. Drummer Green lays down the second line beat while Gruver tales a wicked piano solo.
"You Got The Fire, I Like The Heat" is a bit of Zydeco written and sung by Gruver. Again it's Green on the beats and Watkins with another sax solo.
"Round Up Them Suspects" was written by special guest "Big Chief" Juan Pardo who is joined by "Big Ike" Kinchen. They are added percussionists while Pardo doubles as vocalist. You just can't get too much of Watkins' sax and he doesn't disappoint.
"Creole Hannah" was written by Eckert and includes some nice bass from Scanlan. Eckert plays guitar and handles the vocal. Gruver is on piano.
"Whatcha Gonna Do, written by Gruver and Watkins, contains the lyric "just the way it is". The funky rhythm is generated by Scanlan and Green while Gruver's piano and Watkins' sax shine.

"Neighborhood Strut" was composed by Watkins, Eckert and Scottish import Ian Smith who now makes New Orleans his home. The horn section of Smith, trumpet; and Watkins, sax, keep this one going. Watkins takes his solo followed by Smith on the trombone.
The New Orleans Suspects are the best band to come out of New Orleans in the last seven years. They are keeping up with that cities tradition of bringing us the most exciting and uplifting music offered anywhere. They are also establishing themselves as a New Orleans institution. This is highly recommended.
Richard Ludmerer
https://youtu.be/3sWfdStwFI4
https://open.spotify.com/artist/72giGVybdVyHk8jim1UdRv