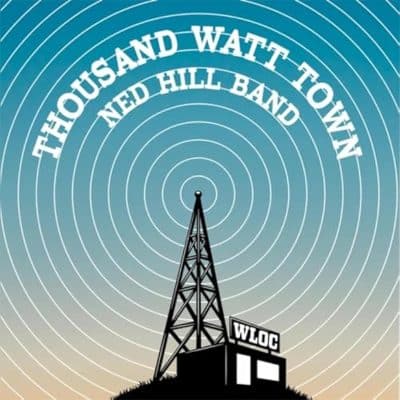 Ned Hill Band
Thousand Watt Town
Self-released
Troubadour Ned Hill delivers a country-tinged rock n' roll record with a touch of his native Kentucky twang. Even the opening chords of "Gotta Get Out of This Town" will evoke Steve Earle's Guitar Town or Copperhead Road. On Hill's Thousand Watt Town the singer-songwriter collaborates with the incomparable multi-instrumentalist Dave Coleman who produced, mixed, engineered the album and played various guitars, piano, organ., accordion, standup bass, and backing vocals. Actually, that's rather typical for Coleman, East Nashville's secret weapon.  Given the subjects of corporate greed, opioid crisis, global warming, hazmat train derailments, and the more conventional themes of love and escape, this may have been termed an outlaw country album in previous decades. No matter what, Hill has plenty to say and he's going to rock in the process.
The rest of the Ned Hill Band is his frequent sidekick, fiddler Tina Simpson and the bass-rhythm tandem from Paul Thorn's band, bassist Ralph Freidrichsen and drummer Jeffrey Perkins. All the band members sing too. After the rollicking escape of "Gotta Get Out of This Town" Hill turns toward opioid addiction in the swampy shuffle of "Kingdom Come," turning the tables on a heavenly place to those dark corners of east Tennessee and Kentucky where one goes for a fix to the strains of Coleman's slide guitar and Simpson's fiddle, with all, as on most tunes, chiming in on the choruses. The twang comes to fore on the throwback honky tonker "Dance At the Old Star Line," Coleman wielding a telecaster and Simpson going hoe down with her fiddle, as Hill recalls one of his parents' haunts on a Friday night. "Bang the Drum," perhaps because of the title but also due to the repetitive refrain, reminds this writer of The Waterboys' "And a Bang on the Ear," yet it is a far different tune musically and thematically, as Hill essays his global warming concerns.
The linchpin song is the narrative "Larry Wilkins and the Great Train Derailment of '66," a title that sounds like one from The Drive-by Truckers. Instead, it's based on a true story of a derailment in Hill's hometown of Horse Cave, KY in 1966 when Hill was barely seven years old. The train was carrying deadly Agent Orange, and the train company made the grievous decision to bury it in adjacent farmland and paid local folks to fill holes with it, resulting in its seeping into the water supply. The line "it was 25 years until we knew the score" relates to local hero, former H.S. football star and rock band frontman Wilkins who died at 41 of cancer, and the cancer rate remains high to this day. Another great line in the song – "An endless war can find any little old street." Hill packs a punch in this tragic tale as the sonics are lighter, his every word heard distinctly.
Yet, he's back to rocking soon enough with "May to December Girl" and summons a bit more twang in saluting his hometown in the title track ("a thousand dreams and one stoplight").  The album's requisite acoustic ballad appears with "Lonely Enough for You to Love," the tear-in-your-beer lament set whereas but at a bar. Not surprisingly Hill goes out in stomping, rocking style with "Her Love's Like Novocaine" one that goes back to 1990 and Hill's first band, the Blue Cha Chas. Coleman rips off a brief solo here though that probably outdoes anything done in Hill's fledgling band of the time.
Hill's Thousand Watt Town is a solid roots rocker that delivers both a lyrical punch and salient riffs.
Help Support Making a Scene
Your Support helps us pay for our server and allows us to continue to bring you the best coverage for the Indie Artists and the fans that Love them!
Make a one-time donation
Make a monthly donation
Make a yearly donation
Choose an amount
Or enter a custom amount
$
---
Your contribution is appreciated.
Your contribution is appreciated.
Your contribution is appreciated.
Donate
Donate monthly
Donate yearly
You can donate directly through Paypal!
Subscribe to Our Newsletter