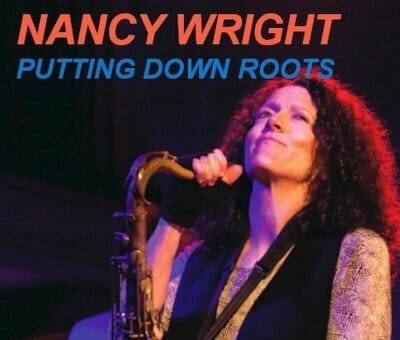 Nancy Wright
Putting Down Roots
Direct Hit Records
In college Nancy Wright was a classically trained bassoon player but it wasn't until she found the saxophone that she felt she had the right instrument. She discovered the world of improvisation.
While still in the Dayton area Wright found a mentor in guitarist Lonnie Mack. She wound up touring with John Lee Hooker and performing with Albert King, Albert Collins and Stevie Ray Vaughan. Since relocating to the San Francisco Bay area thirty years ago Wright played with Katie Webster and B.B. King. She also toured with New Orleans legends Johnny Adams and Earl King. She has played with everyone. Currently Wright tours with both The Elvin Bishop Band and The Frank Bey Anthony Paule Band.
Wright's music melds blues, R n' B, New Orleans, funk, gospel and jazz. In 2009 Wright released her first cd "Moanin", an organ combo project she shared with organist Tony Monaco. This is only Wright's second recording under her own name. The band consists of members of The Bey Paule Band including Tony Lufrano, keyboards; Paul Olguin, bass; Paul Revelli, drums; and guitarists Anthony Paule and Kid Anderson. The album is produced by Wright and recorded at Anderson's Greaseland Studios. Besides playing saxophone Wright also sings. All songs and instrumentals are composed by Wright.
Vocalist Wright opens the album with "Sweet Soul Satisfaction". She also sings on the Lonnie Mack influenced "Well I'm Travelin'" and four others including the New Orleans sounding "Just Can't Put a Finger On It". Wright's sax playing shows influences of King Curtis and Junior Walker on both "Hush Little Darlin'" and "Lovely Pretender". Wright's voice has been compared to Bonnie Raitt.
Wright's instrumentals are well written and well executed. "Funkin' It Up" is a James Brown tribute with fabulous guitar support from Anthony Paule who learned to play like this while in bands like The Johnny Nocturne Band where he backed up saxophonist John Firmin. Other instrumentals by Wright include the New Orleans influenced "The Big Queen", the joyride "Grooving Easy", the cha-cha "A Serendipity", the tribute to John Lee Hooker "Boogie for JL" and the bluesy and introspective "Sanctity in Blue" which closes out this fine album.
Wright has spent her life adorning the music of others and loves to do so. By stepping out with this cd the listener learns more about Wright who is a monster talent on the sax. This is highly recommended listening.
Richard Ludmerer