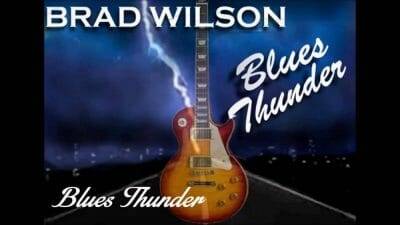 Blues Thunder is a bit misleading as this CD from Brad WIlson is not all that stormy for the most part. The California blues singer and guitarist is cool, polished and very entertaining. Wilson wrote all the songs and produced the album at three different studios. He is backed by a band which is very in tune with his style. The musicians are Brian Beal (bass), Amrik Sandhu (drums), Kirk Nelson (keyboards) and Tumbleweed Mooney (harmonica) Adam West plays drums on two cuts.
The album opens with the sweet and melodic ballad, "Is It Any Wonder?" which offers some restrained but tasty guitar work. "Change It Up" is up–tempo number that seems perfect for radio play. "Blue Shadows" is sophisticated and jazzy, showcasing Wilson's voice and Kirk Nelson's very tasteful piano.
Just as things might be getting just a bit too calm, "Step by Step' comes along with a faster shuffle graced by some intense guitar and Tumbleweed Mooney's awesome harmonica. "Blues Thunder" then brings the energy to a peek with a real rocker. "Let's Go Barefootin'" is a fun Bo-Diddley inspired shuffle, and then we return to an aching rock ballad, "My Faith Has Been Broken." "Cool Runnin' is indeed, another cool, laid-back number with a bit of a Lionel Richie feel to it.
"Home" starts off with acoustic guitar and then builds. It is a heartfelt tune with a Springsteen feel. "Black Coffee at Sunset" is a little rockabilly treat and "Sugar'Sweet" is a tasty rollicking blue, a favorite for this reviewer. "Never Again" ends it all with a tough rocker.
So this CD has some thunder, all right, but it also has quiet moments and cool moments. Even on the rockers, Wilson and the band always sound in total control. Altogether, this one is well worth your time and attention. Wilson is a class act.
https://open.spotify.com/album/14CLMOoRXQjTnKnZzARwVh