MUSIC ON THE COUCH – June 30, 2014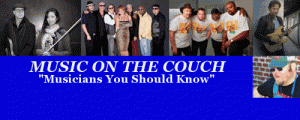 Elam McKnight, President of the West Tennessee Blues Society came by to tell us a little bit more about their Blues Society and their upcoming event on July 12th…
Pork Chop Willie is led by singer-guitarist Bill Hammer and violinist Melissa Tong.
The band is fueled by grooves, grit, honesty and passion as well as a unique blend of down-home and uptown musicianship.. Mississippi Hill Country Blues mixed with a whole gumbo of other sounds.
Their debut, Love Is The Devil, dropped the beginning of June and it is causing waves of accolades throughout the Blues World.
Out of Knoxville, TN comes Jenna & Her Cool Friends a 7-piece collection of talented musicians, all with one thing in mind…make music that makes people happy. Their latest release, I'm What You Get, is a collection of 11 originals.
I got to speak with Jenna (Vocals and percussion) and Keith Ford (Acoustic guitar, vocals) and Kevin Redding (Drums) about their individual travels to where they met, how they met and what it has been like since they joined forces in 2010.
Shawn Holt is the son of Blues Legend Magic Slim. He continues the tradition of the Teardrops…high-energy, hard driving sounds.
It is all evident on the BMA Award winning album, Daddy Told Me.
Shawn came by and we talked about his growing up with Magic as his dad, how Shawn began his musical career, the frustration he felt at one point in his life and his now sharing the legacy of his dad while building his own successful career.
COUCH KID Dave Fields came by with his NEW MUSIC, All In, which drops today!
We talked about what Dave has been up to and about the recording of the album, while we listened to a number of cuts.
Listen Live to
Music On The Couch
with Vinny Bond
each Monday at 9pm Central on
Blog Talk Radio
Listen To The Archives Anytime
At Music On The Couch
Elam's Segment Opens The Show
Bill's Segment begins At the 5:46 Mark
The Cool Friend's Segment begins At the 48:49 Mark
Shawn's Segment begins At the 94:53 Mark
Dave's Segment Begins At The 134:50 Mark