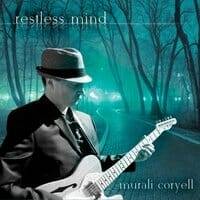 Murali Coryell
Restless Mind
Shake-It-Sugar Records
In 1999, Murali Coryell released "2120" an album by The Murali Coryell Blues Band on Chess Records subsidiary CZYZ Records. This was the well executed but basic blues band that first turned me on to Coryell. They were booked as an opening act at BB Kings in NYC and I was looking forward to getting my first glimpse of Coryell. Coryell broke up the band before they took the stage and performed the gig solo. I was disappointed and left unimpressed.
I guess I avoided Coryell after that. I paid little attention to his 2009 "Sugar Lips" album although it was critically acclaimed by some. He even joined Joe Louis Walker's band as a second guitarist and often opened for Joe. Although he wrote several tunes recorded by Walker I was still unimpressed.
I was wrong, I missed something. "Restless Mind" is an album that I am genuinely excited about. Coryell is the son of Larry Coryell a jazz rock fusion guitar god. Coryell chose his own musical path but for the longest time I just didn't get it.
Coryell's band is still a trio. He is songwriter, guitarist, singer, and bandleader. His band now consists of the rhythm section of Ernie Durawa, drums, and Chris Alcarez, bass. They lay the strong foundation under which Coryell operates.
The album opens with "Waiting and Wasting Away". Artists wait many hours before they get on stage so it's an appropriate title. T­hings begin to heat up, on "Kiss Me First". Nicely sung, the tune showcases Coryell's guitar playing. Attention is also drawn to Durawa whose drumming has that special snap. Then on the title track "Restless Mind" it happens. One realizes Coryell is a really, really soulful vocalist, from the first note until the last, this is a first rate performance. "Crime of Opportunity", "I didn't think I'd get busted" is a well written song.
"I Can't Give You Up" and the fabulous "Tag Along" feature the horn section of Joe Morales, sax, and Jimmy Shortell, trumpet. On the later they each give us a nice solo.
It's then I begin to realize that Coryell is also a fine producer. "Lonely Eyes" is a short pop tune that could be covered in any genre. "I Can't Get Enough", "of your sweet sticky stuff" and "Everyday is a Struggle" are just fabulous songs.
Coryell closes with the albums only cover. I understand he's been performing Marvin Gaye's "Let's Get It On" for almost twenty years and he chooses to conclude with it here.
I'm glad I finally get it. "Restless Mind" is one of the best recordings of 2014.
Richard Ludmerer