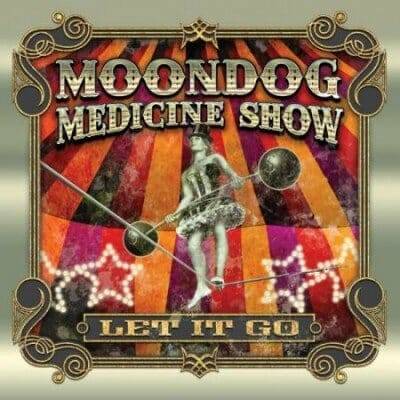 Moondog Medicine Show
Let It Go
Independent
This is Moondog Medicine Show's second cd. Their first cd "Elixir" was released in 2013. The band is fronted by Lana Spence.
Spence is one of a dozen Janis Joplin type replacement singers used by Big Brother and The Holding Company from 1987 – 1997 and again between 2008 and 2011. It is uncertain as to how many appearances she made with them but Sam Andrew of Big Brother says "Spence can sing…her voice comes out strong and definitive…she always takes care of business".
That quote is an understatement. Spence hails from Western Maryland and previously could be seen fronting the local cover band "Thique". By keeping busy Spence kept her full throttled vocal delivery ready to be utilized.
Moondog Medicine Show has played venues and festivals all over the Mid Atlantic states. The band is Spence, vocals; Joel Newman, guitars and backing vocals; Keith Sylvester, bass and backing vocals; and Daniel Tait, drums. Guest musicians include Jeremy Leber, on keyboards.
Tait's drums open "Hot Stuff" originally written and recorded by "Memphis" Minnie McCoy in 1937. Guitarist Newman takes a nice solo while he and Sylvester chime in on the chorus. Spence's vocal is rock solid. Tom Crawford has been added on sax.
"She Wears Trouble Like a Crown", is the first of five songs written and arranged by the band; included also are the infectious title track "Let It Go", "Desire", "How I Love Ya" and "The Day After Yesterday". On the later "Fast" Eddie Galvin sits in on harmonica. "Tirer Le Blues" and "Mama" were both contributed by Newman; while "It's All Good" was co-written by Spence and Newman.
The only other cover is "Seven Day Fool" which was a single by Etta James in 1961. It was written by Roquel "Billy" Davis. Moondog Medicine Show's version is a good one.
These songs will keep you dancin'. Moondog Medicine Show, with Spense on vocals, is an exciting blues rock ensemble deserving of further recognition.
Richard Ludmerer