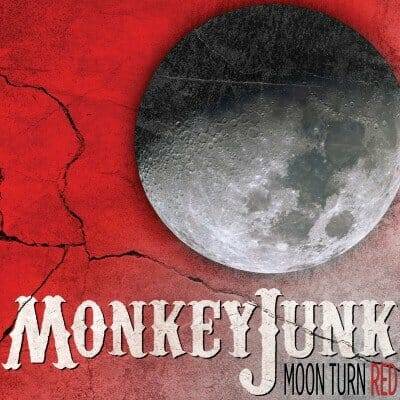 Monkeyjunk
Moon Turn Red
Stony Plain Recording Co.
Monkeyjunk consists of Steve Marriner, lead vocals, baritone guitar, keyboards, and vibes; Tony Diteodoro, lead guitar, and backing vocals; and Matt Sobb, drums, percussion, and backing vocals. In 2010 this Ottawa based trio won the 2010 Blues Music Award for Best New Artist. They have also been nominated twice for a JUNO award (the Canadian equivalent to our Grammy) taking home the award in 2012.
This is their fourth album on Stony Plain Records their last being 2013's "All Frequencies". They share in the songwriting and they have written nine new songs for this recording. The original tracks are produced by the band along with Ken Friesen.
Each of the originals sound unique as the band explores different rhythms on these swamp styled blues, funk and roots tunes. The album opens with "Light It Up" a straight ahead rocker featuring Marriner on harmonica. "You" sounds like it's an approaching freight train. Gordie Johnson of the band Big Sugar is added on the Hammond organ on the reggae sounding "Love Attack" while Friesen and Nick Diak join in on the refrain. "Live Another Day" features Marriner on the keys while he and Tony D duke it out on guitar. Kelly Prescott sings harmony on "Learn How to Drive". On "Meet Me at Midnight" it's Steve O'Connor on the organ and Kelly Sloan adding the vocal touches.
The only cover is "Hot Hot Papa" written by the legendary rocker Canadian guitarist David Wilcox (not to be confused with the American folkie with the same name). First recorded in 1977 this well executed version features Wilcox on guitar and production by Colin Cripps of the band Blue Rodeo.
This may arguably be Monkeyjunks best recording to date as it features more consistent songwriting than ever before. They are re-vitalized.
Richard Ludmerer