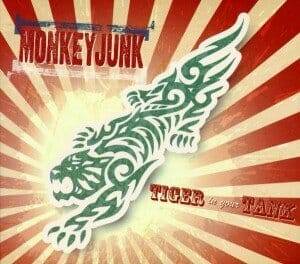 Monkey Junk
Tiger in Your Tank
Stony Plain Records
Monkey Junk is an Ottawa, Ontario based blues band that won the 2010 Blues Music Award for Best New Artist Debut. This album is a re-issue of their debut recording originally released in 2009. They have three albums on Stony Plain Records their latest being 2013's "All Frequencies".
The band includes Steve Marriner, vocals, guitar, and organ; Tony Diteodoro on vocals and lead guitar; and Matt Sobb, drums and percussion. They took their name from Son House who once was quoted as saying "I'm talking about the blues, I ain't talking 'bout no monkey junk. Their sound has been compared to that of the Fabulous Thunderbirds.
On this re-issue the band has added two songs recorded this past May, 2014. Therefore the album now features nine originals. My favorites include "If You Were Mine"; "Pay The Cost" and "Leave The Rest To You".
The album also includes four well performed covers. The sexually charged "I Wanna Put A Tiger in Your Tank" was written by Willie Dixon. A great songwriter Dixon authored many of our more popular blues tunes including "Spoonful". Dixon died in 1992.
"Give Me Time" is from Sam Maghett a.k.a Magic Sam. He released the single "All Your Love" in 1957. His benchmark album "West Side Soul" was released on Delmark Records in 1967. He passed in 1969.
"If You Were Mine" was written by Otis Rush whose sound became known as West Side Chicago Blues. He recorded for many labels including Cobra, Delmark, Duke, Chess and Blind Pig. He hasn't actively performed since 2004.
Included also is "Boogie Man" co-authored by Charles Blackwell and Leon Russell. Blackwell was Taj Mahal's first drummer who went on to form Island Records and record Bob Marley.
Monkey Junk is a fun band. It's nice to be able to still obtain this first album. If you haven't heard it, it is well worth listening.
Richard Ludmerer