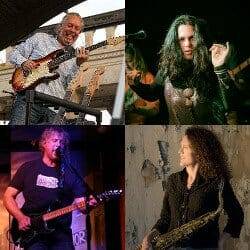 MUSIC ON THE COUCH
10/10/16 SHOW #341
SHOW LENGTH: 2:56:27
Listen here: https://goo.gl/0sNCJB
LIVE, UNCUT & UNCENSORED CONVERSATIONS WITH
"MUSICIANS YOU SHOULD KNOW"

BILLY PIERCE
Billy "Got Slide" Pierce has released Shapes Of Soul, a collection of 7 originals and 3 classic covers. Billy has been performing with artists such as Charlie Wooten, Sonny Landreth, Johnny Neel and others. He and his band came to the IBC back in 2015 and caused some talk on Beale. Billy and I talked about his journey, the music he is writing now and where he is headed tomorrow.

SARI SCHORR – Segment Begins At The 50:00 Mark
Sari Schorr has been getting press in Blues In Britain, Blues Matters & Big City Rhythm & Blues for her dynamic shows. A talented songwriter, her work has been on major labels, but it is now time for Sari to shine and she is doing just that. Her debut album is A Force Of Nature and those four words certainly describe Sari Schorr. She and I had a fun talk about her growing up in NY, the time she spent helping others around the globe, how that has impacted her songwriting and so much more.

CHARLIE WHEELER – Segment Begins At The 1:35:00 Mark
The Charlie Wheeler Band is out of Northern Pennsylvania and the trio is known for its rocking Blues/Southern Rock sound. Blues Karma And The Kitchen Sink is their fourth studio album and it brings the band to new heights. I originally 'met' Charlie back in 2008 and I was glad to reconnect and get him booked.

NANCY WRIGHT – COUCH KID NEW MUSIC
Segment Begins At The 2:18:00 Mark
Couch Kid New Music brings Nancy Wright back to The Couch. This incredibly talented sax player has released a new album entitled PLAYDATE! Five of the thirteen songs are originals and Nancy has invited a slew of friends to play along. Nancy and I talked about her busy schedule, performing on the LRBC, working with Kid Andersen and how she selected the guests for the songs.
SONGS PLAYED:
BILLY PIERCE – SHAPES OF SOUL
Shapes Of Soul
Delta Queen
Me & The Misses
SARI SCHORR – A FORCE OF NATURE
Cat & Mouse
Letting Go
Kiss Me
CHARLIE WHEELER – BLUES KARMA & THE KITCHEN SINK
Flicker Away
Choir Of 1000 Angels
Shiver
NANCY WRIGHT – PLAYDATE!
Trampled
Yes He Do
Warranty
There Is Something On Your Mind