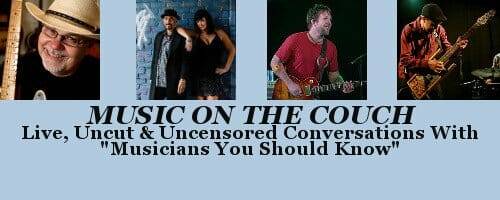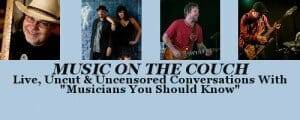 Gary Nicholson is a #1 hit songwriter, two time Grammy winning producer, recording artist, with over 500 of his songs recorded by artists as diverse as BB King, Garth Brooks, Etta James, and Ringo Starr to name a few. He can also be "Whitey Johnson," his bluesman alter ego, or a part of the Fortunate Sons rock band.Gary has a new album entitled Whitey Johnson, and he came and took a Seat On The Couch and we got to discuss his life and career.  Beginning in Texas and playing late night performances, to moving to California with college bandmate Don Henley, though his time in Nashville now, where he works diligently with so many artists writing and producing.


Markey Blue is led by Markey and Ric Latina out of Nashville, TNMarkey's career began as a showgirl in Las Vegas and Ric has toured with Waylon Jennings, Hank Williams III and Gary Puckett among others before they joined together to put this band in motion.Their debut album, Hey Hey receives assistance from Steve Cropper and is just great.Markey, Ric and I had a great talk about each of their roads that led them to Nashville and eventually to each other.  Markey has this infectious laugh and it pops up throughout the interview.Markey also worked as an impressionist earlier in her life…come check out what vice she used when I asked her to tell that story in "her favorite voice".


Devon Allman joined me. He has a new solo album entitled ragged & dirty and we discussed the music on that album, his work with Royal Southern Brotherhood, the charities he supports and even his Hot Sauce!Devon was traveling down the highway making his way to a performance in Macon on Tuesday and we had a couple of glitches early on and then later in the interview, but that is the way live radio goes!He spoke about his earlier days, being happy he did not grow up "in the circus", meeting his dad and then finding the blues on his own.  What a fun interview this was.
| | |
| --- | --- |
| | |
Nathan James first Sat On The Couch back on January of 2012 to be a part of the IBC Preview shows.He now has a new album out that is actually two albums, Hear Me Calling (Solo Acoustic) and Natural Born That Way (Electric with his band the Rhythm Scratchers) which includes 4 songs done in each style.Nathan talked a little about what he has been doing since he last visited, why he decided to release a double album and one in which he separates his performance styles and we explored the recording techniques used in the making of this album while listening to a few choices from each album.

Listen Live to Music On The Couch with Vinny Bond
each Monday at 9pm Central on Blog Talk Radio
Listen To The Archives Anytime
At Music On The Couch
Gary's Segment Begins The Show
Markey Blue's Segment Begins At The 48:24 Mark
Devon Allman's Segment begins At The 1:32:52 Mark
Nathan James' Segment Begins At The 2:16:15
MarkGARY: http://goo.gl/rQb4nN
MARKEY BLUE: http://goo.gl/CN8hsx
DEVON: http://goo.gl/IySzNl
NATHAN: http://goo.gl/vYeLbr