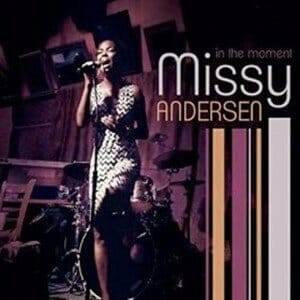 Missy Andersen
In The Moment
Main Squeeze Records
Missy Anderson states "Something about Soul speaks to me, and if you dip it in some Blues, it's even better…it's about the story and the feeling". Andersen's first album was the self titled "Missy Andersen" released in 2009. This is Andersen's second studio recording.
Andersen was born in Detroit, lived in Queens, N.Y. and now resides in San Diego. Previously she was a background singer and shared the stage with Ray Charles, B.B. King, and The Meters. She was also a member of the "Jezebelles" who were the background singers for Earl Thomas and others.
The band includes Anderson, lead and backing vocals; her husband/producer Heine Andersen, guitar; Bill Stuve, bass; Marty Dodson, drums; Ben Moore, Hammond B-3 organ; Chris Hoffee, percussion; Robbie Smith, trumpet; Gerard Nolan, tenor sax; Bob Mathes, baritone sax; and Sue Palmer, who has worked with Candye Kane, on piano. Guest musicians include guitarist Nathan James; harmonica ace James Harman; and bassist Michael McKinnon. The background singers are Sonja Mack and Karen Trapane.
The album open's with a version of Benny Clark's "Rent Party" from 1984. One is immediately impressed with Andersen's voice and the horn section led by Smith. Five of the eleven songs were co-written by Andersen and her husband including "Whole Lotta Nuthin" with its infectious New Orleans second line beat; "No Regrets" and "Night Stalker". The later features impressive solos from both Moore and guitarist Heine Andersen. "Better or Worse" was co-written with Anthony Young and features Harmon on harmonica.
Friend and San Diego local Cathy Hammond wrote both "More Than Enough" and "Reach Out", while Palmer contributes "Ladies Shoes". Included also are two great covers; Sly and The Family Stone's "Same Things Make You Laugh Will Make You Cry" and "I've Been Walkin" from Snooks Eaglin.
This is a well produced sophomore effort from Andersen which will endear her to blues and soul fans everywhere. Andersen will receive much greater recognition in the years to come.
Richard Ludmerer