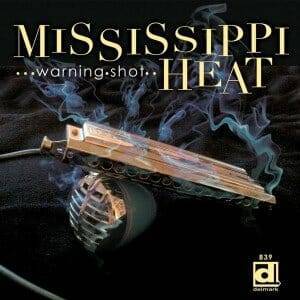 Mississippi Heat
Warning Shot
Delmark Records
Mississippi Heat, the band that was formed in 1991, still has one foot in Canada and the other in Chicago. Pierre Lacocque, is the talented harp player and songwriter who heads up this ensemble. Inetta Visor is the passionate vocalist heard on most of the tracks. Rounding out the band are guitarists Giles Corey and Michael Dotson; Neal O'Hara, keyboards; Brian Quinn, bass; and Kenny Smith or Andrew Thomas, drums. Gordon Beadle a.k.a. as "Sax" Gordon is featured throughout the recording. Ruben Alvarez is the percussionist.
Lacocque has authored nine new songs for this album. The opening track "Sweet Poison" rollicks from the start. Visor's vocal timbre is a bit like Tracy Nelson's and I guess that's why I love her so. Visor sings on "Alley Cat Boogie" which features solos by Lacocque and Gordon. On "Come to Mama", Lacocque's harp has that high reedy sound. "Birthday Song" dedicated to Lacocque's grandchildren is a bit of New Orlean's funk; Carl Weathersby guests on guitar. "Nowhere to Go" features a nice guitar solo from Dotson. The title track, "Warning Shot" features a solo by keyboardist O'Hara and background singers Mae Koen, Diane Madison, and Nanette Frank. Guitarist Corey takes a nice solo on "Recession Blues". "Too Sad To Wipe My Tear" is my favorite song on this fine album.
Visor also sings on Brook Benton's "I Don't Know" and on her own "A Part of Something Special". Guitarist Michael Dotson sings lead on three of his own compositions, "Yeah Now Baby", "Swingy Dingy Baby" and "Evaporated Blues". Drummer Smith contributes "Wha Cha Say". Lacocque takes Hank Williams' "Your Cheating Heart" and turns it into a harp instrumental.
Lacocque's "Working Man" features the whole ensemble and closes out this fine album. Mississippi Heat remains one of Chicago's best working blues bands. Check them out.
Richard Ludmerer