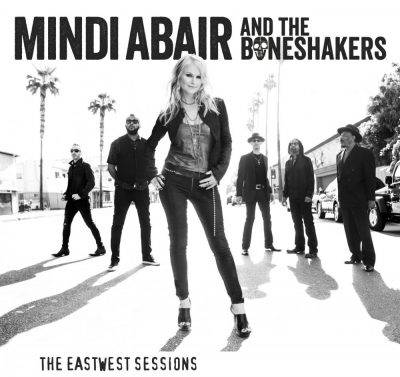 Mindi Abair and The Boneshakers
The East-West Sessions
MindiAbair.com
In 1979 Randy Jacobs was a core member of the funk pop band "Was (Not Was)" an early project of producer Don Was (Bonnie Raitt, Bob Dylan, The Rolling Stones) where he worked with singer Sweet Pea Atkinson. He was also a member of 1993's Soul Mission which included Mavis Staples, Booker T. Jones, Steve Cropper, Joe Sublett and Darrell Leonard. In 1994 Jacobs formed the funk blues R n' B band The Boneshakers with Atkinson and they released 1997's "Book of Spells" on the Pointblank/Virgin Records label; it featured his rockin' arrangement of James Brown's "Cold Sweat". Four more albums followed including one with Austin vocalist Malford Milligan. Jacobs also co-produced the 1-10 Chronicle series for Virgin which included Charlie Musselwhite, Willie Nelson, Joe Ely and others. Jacobs later focused on instrumental music producing 2010's "The Return of Randy Dynamite" and 2013's "Rhythm & the Beat".
Mindi Abair is a two time Grammy nominated Contemporary Jazz saxophonist who released her eighth album, "Wild Heart", in 2014. That year she also played on Jeff Golub and Brian Auger's "Train Keeps A Rolling"; and on "Decisions" by Bobby Rush & Blindog Smokin. Abair has spent the last two years touring with The Boneshakers in support of their 2015 album "Live in Seattle".
The band includes Abair, saxophones and vocals; Jacobs, guitar and vocals; Atkinson, vocals; Rodney Lee, keyboards; Derek Frank, bass and vocals; and Third Richardson, drums and vocals. The album is produced by Kevin Shirley whose production credits include Led Zeppelin and Joe Bonamassa. The album was recorded at Hollywood California's EastWest Studios.
Abair has written or co-written eight of the eleven tunes. Abair's wailing sax opens "Vinyl" a celebration of love. "Late at night, I'm waitin' on you, come home and do the things that lovers do…make my jailhouse rock just like a king…you got me spinning like an old soul record…in your groove like a needle on vinyl".
The instrumental "Not That Kind of Girl" is a sax house party as she spars with Jacobs who takes a nice guitar solo. The song was written by the Atlanta based singer/songwriter Brad Cox.
Abair sings about her self-reliance and determination on "Play To Win". Abair changes sparring partners as Joe Bonamassa guests on "Pretty Good For A Girl".
On "Let Me Hear It From You" we get to hear the soulful Atkinson as he takes the vocal reins. Written by Sylvester Stewart this song originally appeared on Sly and The Family Stones 1967 album "A Whole New Thing".
"Live My Life" is Abair's philosophy "gonna do my thing, gonna live my life". Lee's organ opens the gospel tinged instrumental "Freedom" written with Dave Yaden, one of Abair's regular co-writers. "Had To Learn The Hard Way" was written with Ty Stevens another frequent co-writer.
"She Don't Cry No More" was written by Xavier Amin Dphrepaulezz better known as Fantastic Negrito, an African-American singer songwriter whose music spans blues and R n' B.
"Done Me Wrong" was written by Abair, Wayne Rodrigues and Sam Griffin-Ortiz. The fabulous production makes this one of my favorite tracks.
"I Love To Play The Saxophone" is the closer which will make you love Abair; that is if you don't love her already.
Abair is a female Junior Walker. This album rocks from start to finish as each song is deserving of airplay. Although Abair has been around she is new to the blues scene. Better check her out.
Richard Ludmerer
[amazon_link asins='B0748K8CD3,B015FDX2MO,B00IF6WOIW,B000EHSVEQ,B003CR9C3E,B000W1SJCS,B0002VEO3Q,B0015NOR8M,B00481KM0A' template='ProductCarousel' store='maasc-20′ marketplace='US' link_id='8e803280-94bf-11e7-932a-d9284e12e141′]