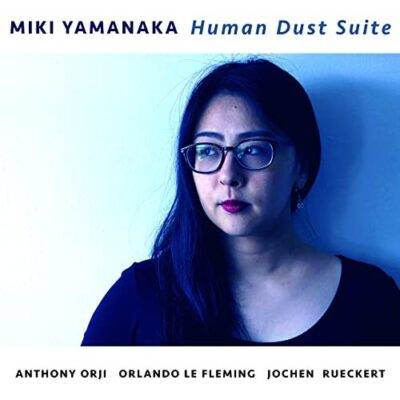 Miki Yamanaka
Human Dust Suite
Outside In Music
You could say the centerpiece for this album by New York-based musician and composer Miki Yamanaka is based on a rather strange and alarming subject but then again, you've probably had your own experience of wandering through an art museum, only to be totally stunned by a particular work of art. Here Yamanaka turns a startling photograph into beautiful music. Human Dust Suite takes its name and inspiration from Hungarian-American conceptual artist Agnes Denes' striking photograph "Human Dust". Produced in 1969, the subject of Denes' photograph is, at first, startling: a mound of human remains after cremation. When Yamanaka first encountered the work on display at The Art Institute of Chicago, she realized something obvious, yet deeply profound: "in the end, we all end up the same way." This inspired her to compose a suite of five movements, each representative of a different body part. Each title symbolizes something greater that leads to happiness- like Movement III, "Tummy", inspired by a love for food and nourishment, and IV, "Feet Go Bad First", because, as Yamanaka says in her liner notes, "how awesome to be able to walk and to run." This introspective meditation on humankind speaks to the strength and unity of humans, as a response to the scene of human frailty that Denes' artwork seems to conjure.
Human Dust Suite follows her critically acclaimed debut Miki (Cellar Live, 2018). Yamanaka performs on vibraphone in addition to piano, and is joined by alto saxophonist Anthony Orji, bassist Orlando le Fleming, and drummer Jochen Rueckert. Master organist Larry Goldings writes in the album's liner notes, "…let the music herein be a reminder that great jazz requires togetherness. And Miki Yamanaka and her band have their togetherness, together." In a time of social distancing, Goldings' words resonate deeply. While "Human Dust Suite" is the heart of the album, it is bookended by three songs on each side that are more lighthearted and showcase Yamanka's range as a composer. The album's opening track, the bouncy, playful "Pre-School" is inspired by jazz great Lee Konitz while "March" is Yamanaka's contemplative tribute to an idol, Mulgrew Miller, whose playing and composing had a profound effect on her. The interplay between the leader and Orji is quite striking in this piece while "First Day of Spring" has a solo spot for Le Fleming and a ballad-like tone and texture turn from Orji before launching into the "Human Dust Suite" where drummer Rueckert emphatically anchors the unit as they blur the lines between structure and free form journeys. As Goldings pointed out, the communication of the rhythm section is highly impressive throughout.
Two originals come next. "O 2017" is described as a "palate cleanser" and features the leader on vibraphone. "This song and "Hatsu" (from the suite), were written for two parts, and I decided to overdub those melodies and harmonies on vibes," said Yamanaka, adding that she practiced her vibraphone chops diligently at Smalls Jazz Club, where she is a regular performer. "After The Night" is the final original, before leading into an innovative 5/4 take on Randy Weston's "Berkshire Blues". Yamanaka adds her own liner notes for each piece, and one can't help but be struck by her humility and humor. This is what she says about "Berkshire Blues" – "…I got to know this song from Goldings/Bernstein/Stewart trio. I like to practice songs with different meters, because I suck at it, then arrangement happened. Also, I freakin' love playing the #blues."
Yamanka's quartet is the essence of jazz communication and dynamics, a showcase for her inventive piano playing where her flair for melody is balanced by her penchant for dark chords. Yet, the overriding takeaway is her exceptional compositional skill.
More on Miki Yamanaka
Yamanaka hails from Kobe, Japan and has lived in New York City since 2012. A student of Jason Lindner, Jeb Patton, Fred Hersch, Sam Yahel, and Larry Goldings, in 2015 she was one of three pianists selected to participate in "Betty Carter's Jazz Ahead", an intensive composition residency at the Kennedy Center. Miki has appeared in concert with many notable musicians including Steve Nelson, Seamus Blake, Jerry Dodgion, Victor Lewis, Rich Perry, Antonio Hart, and Peter Bernstein. She has had multiple week-long engagements at Dizzy's Club Coca Cola since 2016. She is the current pianist in the Philip Harper Quintet, the Roxy Coss Quintet, and the Antonio Hart Group.