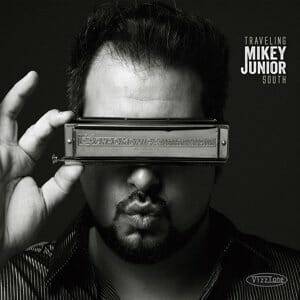 Mikey Junior
Traveling South
Vizztone Records
Mikey Junior was born Andrew Michael Hudak in Trenton, N.J. but now resides in Bucks County, Pa. He released his first recording, "The 420 Sessions" in 2003. Whenever I listened to it I felt that the album could be a primer for harmonica students. Even back then he had the tone and phrasing down pat. He fronts his own band, The Stone Cold Blues Band.
"Traveling South" is Mikey's 8th album overall and it contains mostly original material. For this project producer Dave Gross has put together a formidable unit. Gross recruited guitarist Dean Shot, and also enlisted Jeremy Baum, piano and B-3; Michael Bram, drums; and Matt Raymond, bass.
The opening title track is one of only two songs not written by Mikey. Its from British producer Mike Vernon who worked with John Mayall and others. Mikey's harp sounds like a train pulling out of the station.
Mikey sings from the gut on "Nobody Does It Like Me". Shot's guitar lines and Mikey's harp pair nicely on an instrumental verse until they fade out. Bram's drums set the beat on "Morning On My Way". This song reminds me of Buddy Guy's version of "Trouble Blues" written by Charles Brown. "Bad Time Blues" was written by Mikey's friend and band member, the late Danny DeGennaro, and Shot takes a nice guitar solo.
Mikey's vocal style is that of a blues shouter, manly and gruff. One of my favorites is "The Cheat". Gross takes a turn on guitar. My other favorites are "Please Come Back" and "Trying To Do The Best I Can". On these it's Shot on guitar.
Mikey states his harp playing is influenced by William Clarke. His unique styling and strong songwriting combine to make this Mikey's best album to date. His future shines bright.
Richard Ludmerer