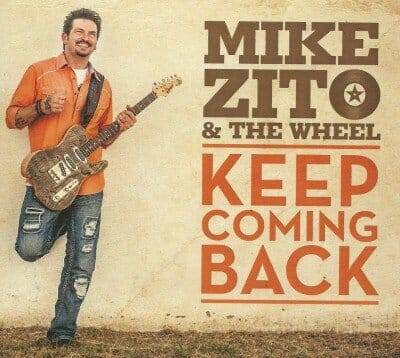 Mike Zito & The Wheel
Keep Coming Back
Ruf Records
Guitarist Mike Zito began his career in the St. Louis area, where he released some recordings on his own before signing with Eclecto Groove Records. Eclecto Groove was a new subsidiary of Delta Groove and in 2008 they released Zito's first internationally distributed album. "Today" was co-produced by David Z. and Tony Braunagel.
In 2009 Eclecto Groove released Zito's follow up recording "Pearl River". Guest artists included Cyril Neville and Anders Osborne. The title track, co-written by Zito with Neville, won "Song of the Year" at the 2010 Blues Music Awards. Zito released a third album "Greyhound" and it received a 2011 Blues Music Award nomination for "Best Rock Blues Album".
Around the same time Neville, and guitarists Zito and Devon Allman enlisted the rhythm section of Charlie Wooten, bass; and dummer Yonrico Scott. They performed their first gig in New Orleans and in 2012 released their debut "Royal Southern Brotherhood" on Ruf Records. While touring Europe the band really began to jell as they had three lead vocalists, two of them lead guitarists and they all collaborated on the songwriting. The debut was nominated for a Blues Music Award in 2013 while their live Ruf Records "Songs From The Road" won the 2014 Blues Music Award for "DVD of The Year". In 2014 Royal Southern Brotherhood released their second studio recording "Heart Soul Blood". It might be their best to date as it won them another Blues Music Award nomination.
In 2013 a rejuvenated Zito formed a new band and named them "The Wheel". Their first album "Gone to Texas" was released on Ruf Records. Finally in October of 2014 Zito announced that he was leaving Royal Southern Brotherhood in order to tour with his own band.
This new album showcases Zito as an experienced bandleader. The Wheel includes Zito, vocals and guitar; Jimmy Carpenter who also played with Tab Benoit's Whiskey Store, vocals and saxophone; Lewis Stephens, keyboards; Scot Sutherland, bass; and Rob Lee, drums. The album is produced by Trina Shoemaker.
Zito is first a songwriter. I love his quote "it's all about the song." Zito contributes seven new originals and the recurring theme is redemption. The opening track "Keep Coming Back" includes the words "I Got One Foot in Tomorrow, One Foot in Yesterday". Songs like "Chin Up", "Get Busy Living" and "Early in the Morning" continue on this same theme. "I Was Drunk" co-written with Anders Osborne is a reflection of the past.
On the inside cover Zito is pictured holding a Gibson "Hummingbird". This definitely is a songwriter's guitar and Zito melds influences from Blues, Country music and Rock. He also includes two covers; Bob Seger's "Get Out of Denver" and John Fogarty's "Bootleg".
Carpenter's saxophone is delightful throughout the recording and especially nice on "What's On Your Mind".
Zito rewards the listener with hope and good music. What else is there to do but re-invent ourselves; thank you Mike Zito.
Richard Ludmerer