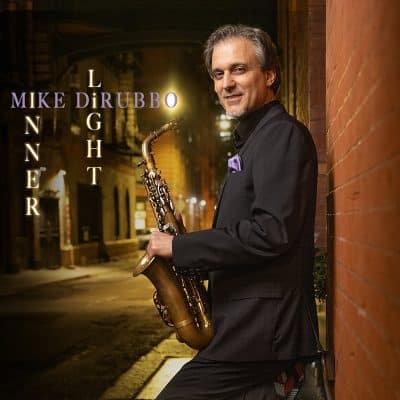 Mike DiRubbo
Inner Light
Truth Revolution
Inner Light is alto saxophonist and composer Mike DiRubbo's tenth album as a leader, fronting a quartet of long-held collaborators. DiRubbo cut his teeth as a sideman for the likes of Al Foster, Harold Mabern, and Cecil Payne among others before proving to be a steadily prolific leader in just two decades on the scene. His bandmates are also leaders of their own projects when not backing DiRubbo. They are organist Brian Charette, guitarist Andrew Renfroe, and drummer Jongkuk Kim. While the instrumentation may resemble a traditional organ-based soul-jazz unit, DiRubbo's music is fully contemporary, with some ties to tradition but certainly not 'throwback' in nature. The leader's eleven originals stretch for a full 65 minutes of heated energy.
That heat is felt immediately with the opening JK in NYC, obviously a nod to the drummer in the title as Kim lays down a fat groove for convivial dialogue between Charette, Renfroe, and DiRubbo. "Scrollin' and Trollin" plays to bluesy vamp with Charette's organ bringing it to a definitive climax. "The Muse" washes all those funky grooves away as DiRubbo crafts a lyrical solo before yielding to a riveting fret work from Renfroe as the two swap lines throughout, building to intense passages with Charette supplying the cool intervention before the two resume their fervent attacks. "Bethune Street" has the three lead instruments shifting from confident unison lines to individual statements that embellish the simple theme as the tune sets up the album centerpiece, the moving ballad "Love the Same" that celebrates disability inclusion, love, and support for differently abled persons. This is a quartet that can bring the funk and fire but play so lyrically too, as evidenced here. DiRubbo is a clear-toned, fluid, sharply articulate player who uses his entire horn but stays away from shrieking and squawking and he has the perfect complementary players in Charette and Renfroe.
The quartet resumes their highly energetic, rapid burst of notes assault in the title track, almost like '60s soul-jazz on steroids, anchored by a straightforward vamp with an invigorating turn from Charette. They simmer down on the romantic late-night vibe of "Brand New" with Renfroe and Charette delivering swaying bluesy statements that reinforce DiRubbo's highly lyrical lines. 'Straight Street" is a hard bopper with DiRubbo blowing tight, jagged clusters answered in kind by Renfroe and Charette. The standout "Moment Before Sunrise" is a tour-de-force for the guitarist, with the others also getting a chance to stretch out. "Campania" is a soothing ballad the quartet closes in their freewheeling, white hot style with "Dearly Beloved," featuring inspired improvisational solos as these musicians clearly feed off and consistently push each other to reach higher.
As you know, we cover plenty of organ-oriented albums on these pages, but this, as well as Charette's efforts as leader, may well be the most contemporary of all. This quartet sustains a high level of inspired playing while retaining a balanced approach throughout.