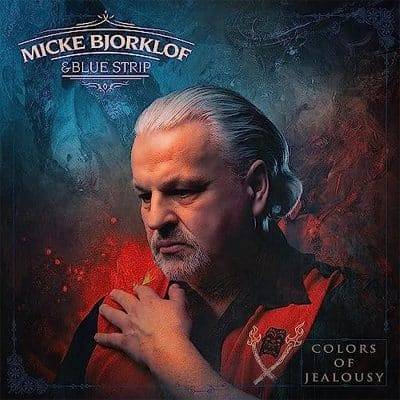 Micke Bjorklof and Blue Strip
Colors of Jealousy
Hokahey! Music Productions
I've been writing about the music of Micke Bjorklof since 2014 with the After the Flood release. I love the way his crafted lyrics and musical arrangements are brought to life with Blue Strip. Their latest album Colors of Jealousy has again captivated me with every listen. Bjorklof has a unique way to making the blues sound new again. It's no surprise to me that they are among the most popular live blues and roots acts in Finland where they have been playing music since 1991. Bjorklof who fronts the band on lead vocals, harmonica, and electric guitar, is joined with Ville "Lefty" Leppänen on electric, slide, and acoustic guitars, mandolin, and backing vocals, bassist Seppo Nuolikoski, drummer Teemu Vuorela, percussionist/MalletKAT master Timo Roiko-Jokela, backing vocalists Lena Lindroos and Veera Railio, with Harri Taittonen on Hammond organ and keys.
"Highway Highway' rolls out atop a driving rhythm with a soulful fusion of Muscle Shoals and Texas blues. Once heard, I am hooked. The swampy sounds of "Feel it in my Bones" follows up on a plate of delectable slide guitar and searing harp. The hook is very infectious. Title-track "Colors of Jealousy" hits like the soundtrack to a lost Sergio Leone spaghetti western film. The landscape is ominous and beautifully twangy as Bjorklof sings about lost love. I keep going back for seconds, each time I hear Micke's hard-driving harp and Lefty's searing guitar on "Thought You Were Mine". Imagery of having an ice-cold beer and rocking out the song in a steamy Mississippi juke joint are conjured from my brain.
Colors of Jealousy is another hit record from Micke Bjorklof and Blue Strip. I highly recommend it.
By Phillip Smith
phillycheezeblues.blogspot.com