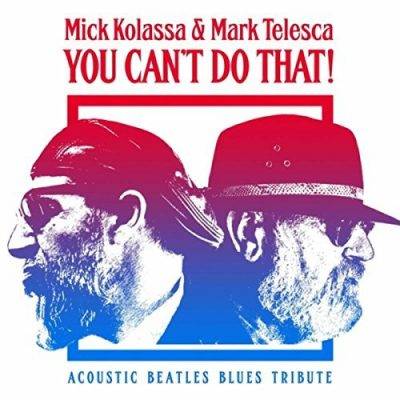 I am enthralled by You Can't Do That! I've been a Beatles fan all my life and I can honestly say that I never imagined them this way. Bu oh, how well it works! Mick Kolassa and Mark Telesca are Beatles fans too, and at the 2016 International Blues Challenge in Memphis they started swapping their" bluesified" versions of Beatles songs. They sounded so good that way, they decided to make an album. Jeff Jensen joined the project to produce and add some of his remarkable guitar and they knew they had something. Then they gathered James Cunningham on drums and other percussion, Tommy Borroughs on fiddle and mandolin, Marc Franklin on trumpet and yes, flugelhorn and Eric Hughes on guitar and harmonica and with the help of all these friends, they did something nearly unbelievable.
The title of the album represents the song "You Can't Do That' but also what some people told them. You can't change beloved Beatles songs into blues! But, with love and respect,Mick and Mark proved that you can. Hearing the well-known songs this way really makes the words pop out at you and they made some unusual choices of lesser-known songs that suddenly demanded attention.
You know that you've never heard the Beatles this way before when you hear the first notes of "I'll Cry Instead" and that Dixieland trumpet. Mick then delivers a jazzy vocal that is simply delightful.
Mark then turns "Can't Buy Me Love," into a Neil Diamond-like pop blues, with lots of moody acoustic guitar which helps give it even more of that t earnest folksinger vibe that Mark is laying down. " i Feel Fine" M then becomes a slow blues with Mick singing and occasionally talking it accompanied by great percussion and guitar and lots of tasty harmonica from Eric Hughes.
"Fixing A Hole" made me literally speechless I could not have imagined this song this way. I had thought it was an odd choice, but this version turns a minor song into something extraordinary. Mark's deeply dramatic delivery and the marvelous guitar picking with a Spanish flare, make this a highlight of an album I was already entirely in love with.
"You Can't Do That" becomes a country blues with Mick on vocals and Eric Hughes joining in on guitar and a bit of harmonica for atmosphere. "Gotta Get You Into My Life is a swinging blues with Mark on vocals. it has a deliberate bit of a cruise ship atmosphere and a slight rockabilly touch to the guitars. The softly delivered background vocals on the chorus are a delight. This is a fun number!
Mick then turns "Lady Madonna" into a mysterious deep blues enhanced by Tommy Boroughs on fiddle and James Cunningham's compulsive drumming.
"Why Don't We Do It In The Road"was the most surprising choice. It was a throw-away song, a chance for the boys to be a bit naughty at the time and for Paul to show off his "Little Richard" falsetto. But here with Mark it becomes a real blues song, even with only 20 words, repeated over and over, in the whole song. "Shes a Woman" gets a growl-y rendition from Mick with a very mellow flugalhorn, played by Marc Franklin, providing jazzy accompaniment. James Cunningham provides some steady, hypnotic drumming.
"Mean Mister Mustard/ Polythene Pam" was another song that never got a lot of attention. In fact, I never heard all the words to this song. They are so much better than I thought! With Mick singing Mean Mr. Mustard and Mark doing Polythene Pam, it's a fantastic collaboration, with excellent accompaniment from guitar and drums.
The last song,"She Came Through The Bathroom Window" is now a mix of country blues and bluegrass with some amazing mandolin from Tommy Borroughs.
It is astonishing that each of these songs got an arrangement that fitted just right and that suited the vocalist perfectly. I believe all four Beatles would approve of it, and as for me, it already has a spot on my 'best of the year" list.
[amazon_link asins='B06Y1FYR85,B06Y1N5LDG,B06Y1LPJTD,B06Y1JPYLX,B06Y1JN1SN,B06Y1JD7LN,B06Y1GZQBK,B06Y1MD79M,B06Y1J5FFC' template='ProductCarousel' store='maasc-20′ marketplace='US' link_id='b4b88586-2ab8-11e7-be66-e936441ab267′]