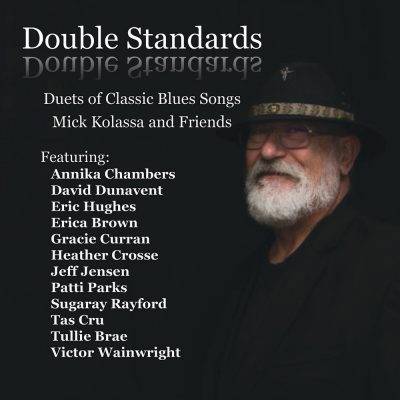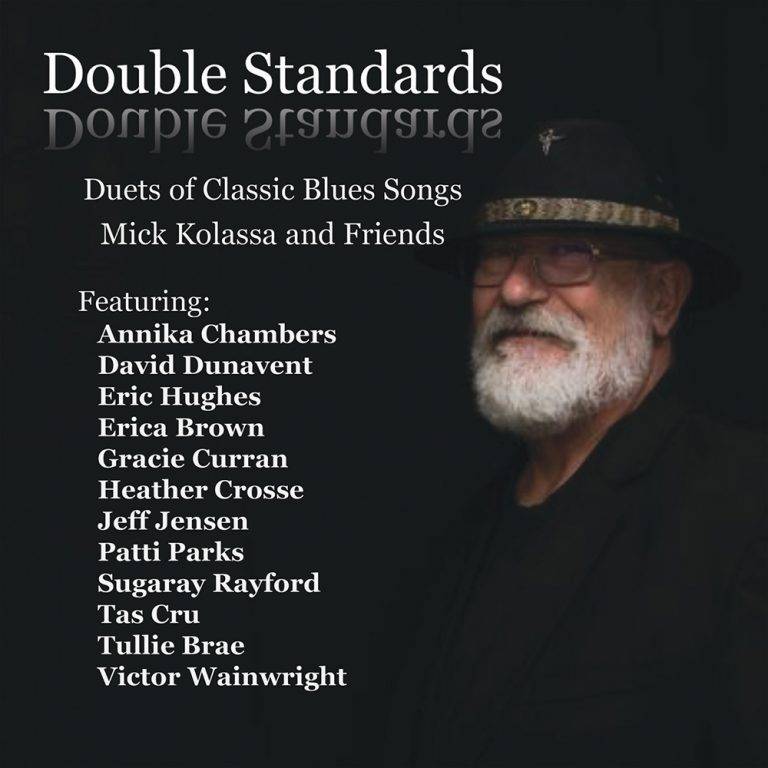 Mick Kolassa is a very likable guy and therefore as a musician he has acquired a lot of talented friends. When he decided to do an album of duets of blues standards to be called Double Standards, of course, he collected 12 of them to sing with him. He also recruited his buddy Jeff Jensen to produce the album and to play on it, along with bassist Bill Ruffino of Jensen's band. He also used drummer James Cunningham and Chris Stephenson on the organ.
Some of the songs will be familiar to any blues fan, but Kolassa has included a few wonderful surprises here. The first is "It's Tight Like That," a song recorded by Georgia Tom (Thomas Dorsey) and Tampa Red in 1928. Here Kolassa and Victor Wainwright perform a joyous version of the song and Wainwright, for once not at the keyboards, inserts "Make Me A Pallet On Your Floor" smoothly into the middle. Eric Hughes, who shows up later for his own duet with Kolassa on the rocking "Key to the Highway," adds tasty harmonica here while Alice Hasan adds violin.
The next song you may not know is "Outside Woman Blues," although if you are a Cream fan you may remember their version. It was written by Blind Joe Reynolds in 1929, but this version with Mick and Jeff Jensen is pure electric rock.
Of the more familiar songs, all of them are well-done. Kolassa does a Fabulous job with Sugaray Rayford and David Dunavent (of Kolassa's Taylor Made Blues Band), but my favorite is "Nobody Know's You When You're Down and Out" with Tas Cru. Both Kolassa and Cru have voices that are well-suited for the ragged edges of this 'song.
Then we come to the women, and these are my favorites. I love the contrast of Kolassa's deep voice with those of these women. All of these women are fantastic, including the ones who were new to me. Wonderful new discoveries were Erica Brown on "Spoonful," and Patti Parks on "It Hurts Me Too." Kolassa and Annika Chambers gave me chills on "Fever" and Tullie Brae and Kolassa are smoking on "Rock Me Baby." He cooks with Heather Crosse, too, on "I Just Want To Make Love To You," which also benefits from Eric Hughes' harmonica. Gracie Curran seems particularly ready to teach Mick a lesson on "Don't You Lie To Me."
Everything ends with nearly everyone getting a verse on the sing-along on"Ain't Nobody's Business If I Do," with some verses you may not quite remember
It sounds like everyone had a blast making this record. They put their whole heart and soul into it. Jensen did a superb job producing it and you are going to love listening to it. And, as with all of Kolassa's recordings, all of the profits go to The Blues Foundation. In this case, they go to benefit The HART Fund, which helps musicians in need, and Generation Blues, intended to help the next generation of blues musicians along, so you can feel good about that, too,
[amazon_link asins='B0786X7LHJ,B01I5XD20S,B0184BN7Q0,B00IDK1YPE,B01007BAPG,B01007AXPY,B00IDK2WVO,B00IDK2Q56′ template='ProductCarousel' store='maasc-20′ marketplace='US' link_id='53c8ef9a-0b95-11e8-9c79-b1da08b0802e']