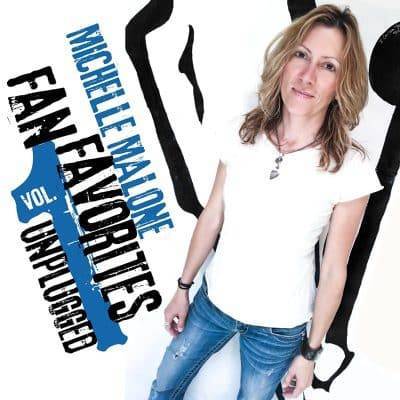 Michelle Malone
Fan Favorites Vol. 1 Unplugged
SBS/The Orchard
Independent Atlanta bluesy singer-songwriter Michelle Malone, like many musicians, got resourceful during the pandemic. Riding the success of her singer-songwriter album, 1977, and especially the single/video "Dust Bowl Man," Malone began streaming her stripped-down songs from her living room during the shutdown, satisfying fans and amassing some new ones as well. Collaborating with guitarist Doug Kees, this acoustic album trades the amplified dynamics of Malone's studio work into an unplugged rendering. Yes, she made plenty of fans with her blistering electric guitar driven albums too, but her recent focus is on the songs themselves. And, as "Vol.1" indicates, there are more on the way. She now has fans in both the blues and Americana camps. The CD has a dozen of her songs that fans consistently requested in the streaming shows and when she performs live. All songs were written or co-written by Malone.
"Feather in a Hurricane" (Debris, 2009) kicks it off, her nod to our frenetic, fast paced lives, reflected in the rapid strumming – "…I'm running a race like a horse whose leg is lame/And I feel like a feather blowing in a hurricane." One can easily envision fans bobbing and singing to those words in the chorus. She reveals a far gentler side in the ballad "Dimming Soul (Beneath The Devil Moon, 1996), a tune which perhaps better than any here, depicts the nuances in her emotional vocals. The anthemic feel good "Love Yourself" (Slings and Arrows, 2018) will have you singing along with her in its infectious rhythmic beat and straight forward message. She keeps us in that alternating pattern from acoustic rockers to ballads with "Super Ball" (Hello Out There, 2001), another uplifting song, this one about the value of resilience.
"Weed and Wine" (Debris, 2009), the penultimate party song has long been a fan favorite for obvious reasons. Who doesn't relate to this nostalgic verse? – "You bring the weed, I'll bring the wine/Crawl in the backseat, honey, and have a good time." Malone penned "Avalon" (Home Grown, 1999) during a heavy touring period of the '90s as, in a prevailing theme, she's seeking some solace and escape from madness. Malone has a gift for touching her audiences with relatable messages and themes. In "Blue Suede" (Beneath the Devil Moon, 1996) she's in that first stage of emotion, anger, as she tries to process the loss of a loved one. Similarly, she conveys the childhood necessity of empathy in "Debris" (Debris, 2009) and amplifies that same need in an adult relationship in "Strength for Two" (Home Grown, 1999). One thing that's striking is that despite the unplugged format where many vocalists naturally dial down, Malone mostly sings with same kind of passion and fervor that she does in her electric settings. Having said that, "Strength for Two" borders on the exception.
Malone hasn't quite figured out the appeal of her "silly" song "Butter Biscuit" (The Official Bootleg 2000) other than fans may be reading in sexual references. Hmmm. Those same references are more directly apparent in the sassy rocker "Tighten Up the Strings" (Sugarfoot, 2006), that has the album's most scintillating guitar work. Malone goes out on fire and alive with the uplifting, self-satisfying, "When I Grow Up" (Stronger Than You Think 2015).
Don't translate "unplugged" to "tame." This is the same fiery, take-no-prisoners Michelle Malone that her fans expect. Arguably, her emotive delivery comes through even stronger.
Help Support Making a Scene
Your Support helps us pay for our server and allows us to continue to bring you the best coverage for the Indie Artists and the fans that Love them!
Make a one-time donation
Make a monthly donation
Make a yearly donation
Choose an amount
Or enter a custom amount
$
---
Your contribution is appreciated.
Your contribution is appreciated.
Your contribution is appreciated.
Donate
Donate monthly
Donate yearly
You can donate directly through Paypal!
Subscribe to Our Newsletter