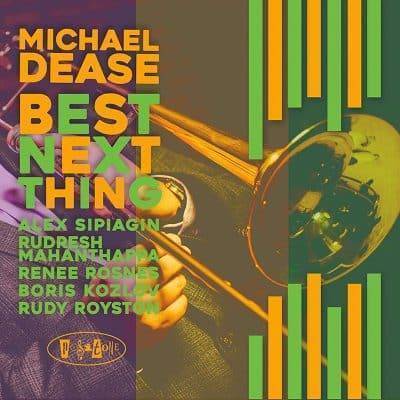 Michael Dease
Best Next Thing
Posi-Tone
Trombonist and composer Michael Dease takes a broader approach to Best Next Thing than he did on 2021's excellent soul-jazz/hard bop Give It All You've Got. While that set honored the sound of the classic Blue Note (often the notion of early Blue Note and Posi-Tone go hand in hand) albums of the '60s, here Dease becomes more explorative by assembling a group he had rarely played with and mixing his own compositions with those of lesser covered artists such as Rufus Reid, Charles Tolliver, Steve Turre, Claudio Roditi, and his bandmate for the session, pianist Renee Rosnes. Joining Dease and Rosnes are label stalwarts trumpeter Alex Nipagin, the sympatico rhythm tandem of bassist Boris Kozlov and drummer Rudy Royston as well as another front liner, alto saxophonist Rudresh Mahanthappa, to form this vital sextet to navigate Dease originals and his carefully chosen interpretations of the aforementioned composers.
The album begins with fellow trombonist, and as it turns out, biracial Steve Turre 's "Rainbow People," a metaphor for the diversity of cultures and people. The frontline horns deliver the opening ensemble theme with intensely burning solos from the leader, and Rosnes, after which Dease launches another spirited flight, breaking for a short statement from Kozlov and Royston, who bring it to a close. "Parker's Brood," an original obviously has Bird in mind but also brings in strains of Third Stream and blues in tribute to the recently departed Barry Harris. Sipiagin bursts out flying and Mahanthappa's rapid runs match that intensity before Dease answers, giving way to his rhythm mates on the eights before the full ensemble returns to the animated head.
Dease describes Rosnes as a frequent collaborator, unlike the other bandmates, and indicates that her "Tiktaalik" is the third composition of hers that he's recorded in this decade. Tiktaalik is an Inuktitut word for a recently discovered fossilized fish that is the bridge between fish and 4-legged mammals. As such, this composition has a whirlwind of frenetic and kinetic elements – a fitting example of Rosnes style where melody, counterpoint, and the unexpected merge well together.
The only earlier era composer here is Sonny Rollins for whom the sextet twists, turns and wrings out his chestnut "Doxy" Mingus style. Yes, the wailing and howling gets edgy. Calm beckons and Dease responds with the lovely ballad "Charly Jaye" written for his three-year-old daughter named after Charlie Parker and JJ Johnson. Rufus Reid's "Glory" was named for sculptor Elisabeth Catlett's bust of famed dancer Glory Van Scott. If features an infectious rhythm and bright turns from the leader, Rosnes, and course, fellow bassist Kozlov. "One for Dease" is from one of the leader's major mentors, trumpeter Claudio Roditi, and it represents one of the last tunes Roditi wrote. As such Dease, Sipiagain, and Rosnes deliver the sparkling solos.
Despite Dease's statement that few artists cover the trumpeter Charles Tolliver, we seem to see an increase in that trend recently at least from this perch. Tolliver's "With Love" sounds like the kind of arrangement Tolliver did for his progressive big bands on Strata-East, notably 1975's Impact, but instead comes from Tolliver's 2007 big band debut on Blue Note. Following one of the strongest ensemble passages in this session, the leader, Mahanthappa, and Sipiagin engage in deeply spirited conversation, both individually and in exchanges until the rhythm section raises up and brings the bright ensemble back for an abrupt close. Speaking of exchanges, Dease's "Horse Trading" is rife with several combinations of such with Mahanthappa especially becoming almost unhinged as each soloist delivers at impossibly fast tempos. Royston interrupts their proceedings with a drum break before they rejoin and exit quickly. The closer, the slow waltz "Lullaby for Rita" is for Dease's mom, rendered as a quartet with lyrical spots for Dease, Sipiagin, Rosnes, and Kozlov.
Dease proves that he's not married to just one style of jazz, expanding from the soul-jazz/hard-bop style into more expansive, colorful, contemporary material with a stellar group assisting his journey.
Help Support Making a Scene
Your Support helps us pay for our server and allows us to continue to bring you the best coverage for the Indie Artists and the fans that Love them!
Make a one-time donation
Make a monthly donation
Make a yearly donation
Choose an amount
Or enter a custom amount
$
---
Your contribution is appreciated.
Your contribution is appreciated.
Your contribution is appreciated.
Donate
Donate monthly
Donate yearly
Subscribe to Our Newsletter