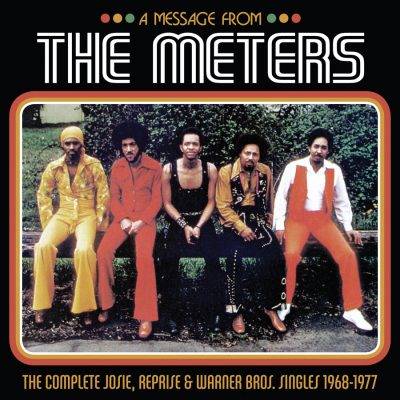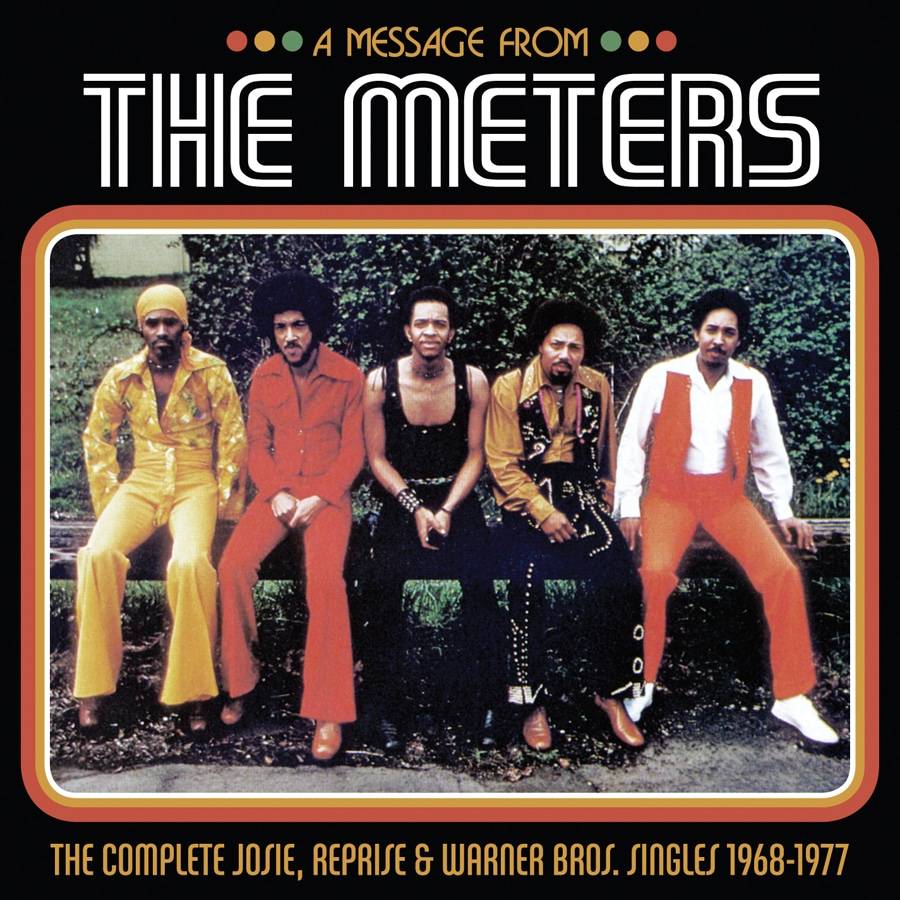 The Meters "A Message from the Meters" The Complete Josie, Reprise & Warner Bros. Singles 1968-1977 (2CD's) www.RealGoneMusic.com
This wouldn't be the first time a label released a two-disc set on The Meters. Previously (1995) Rhino issued "Funkify Your Life: The Meters Anthology" that covered forty-three songs. Roll forward to 2016: Real Gone Music has also compiled a two-disc set "A Message from the Meters." The complete Josie, Reprise & Warner Bros. singles from 1968 through 1977. This current Real Gone box contains forty songs that were originally issued on seven inch forty-five RPM vinyl, so these tracks are a bit shorter than several from the Rhino version. Plus disc one of the Real Gone set is entirely monophonic – twenty-two tracks from the Josie label in chronological order from 1968-1971. The second disc has eighteen tunes taken from the Reprise and Warner Brothers vaults (chronologically again) from 1972-1977; all of CD two is presented in stereo.
Disc one: All but six of the twenty-two tracks were authored by the entire band, five were authored by Leo Nocentelli, and one by Nocentelli and Allen Toussaint, all songs were produced by Toussaint and Marshall Sehorn. The familiar "Sophisticated Sissy" is The Meters debut performance and engraves the bands signature sound, the flipside "Sehorns Farms" has more of a Memphis/Stax sound featuring a clear-toned Nocentelli guitar solo. What more can be said of "Cissy Strut" the 1969 tune catapulted the band onto the charts and into the minds and hearts of generations who followed these trendsetters, the "B" side "Here Comes the Meter Man" allows Art Neville a little time to solo, and note Nocentelli's sparkling wah-wah guitar solo. The often covered "Ease Back" signifies that this band is on a chartbusting roll, but the reverse-side is kind of corny – even though Nocentelli exhibits tasty jazz chops. Art Neville's B3 is very reminiscent of Booker T's on "Dry Spell" which didn't possess the chart grabbing awareness of the previous "A" sides, but the ultra-funky "Little Old Money Maker" fascinates with a myriad of complicated shifts and changes. The nutty "Chicken Strut" with gobble howls is a hoot and makes for excellent top-of- the-hour radio/bumper music. But midway through disc one it seems apparent that the band was having difficulties creating knockout high-profile hits. On songs like "Hand-Clapping Song" they start adding vocals albeit repetitive chants and choruses. That being said it's around this time that Nocentelli authors his first independently written tune – the title track "A Message from the Meters" from 1970 which illustrates a band with growing pains. Nocentelli goes it alone "Stretch Your Rubber Band" a supposed new dance, that didn't takeoff, but Leo's 1971 "Groovy Lady" brings back the earlier Meters groove. Nocentelli teams up with Allen Toussaint "(The World Is a Bit Under the Weather) Doodle-Oop," yes I did write doodle-oop – seemingly struggling to try to find new avenues, the "B" side by Nocentelli reveals a band looking to find yet another new identity – again with vocals that doesn't reclaim The Meters late sixties successes. Nocentelli's "Good Old Funky Music" almost has a Hendrix vibe, Leo's clear tone is gone, and instead he's overusing his wah-wah pedal, it was the first Meters song (according to Bill Dahl's liner notes) that did not chart. Disc one ends with the entire band composition "Sassy Lady" indicative of the bands magical sound from their beginnings. * Noteworthy and classy is Real Gone's use of the original Josie label imprint on physical disc one.
Disc two: * This CD uses the Reprise imprint and color scheme with a "W" that I think is for Warner Bros. though it's not the familiar "WB" logo. Nocentelli's vocalized "Do the Dirt" opens up the second CD again produced by Toussaint and Sehorn. Art Neville writes solo with a fine instrumental "Smiling," and returns for a vocally charged and energetic "Cabbage Alley" that recalls early New Orleans classics by Professor Longhair. Nocentelli's soulful instrumental "The Flower" indicates a potential new sound for The Meters that's smooth and catchy. Zigaboo Modeliste co-authors with Nocentelli (I can't make this up) "Chug-Chug-Chug-A-Lug (Push and Shove) Part(s) 1 and 2" (two separate tracks) are funky and work fairly well, though Part 2 is totally unnecessary. The Meters remake themselves creating one of the Big Easy's most known anthems; "Hey Pocky A-Way" that was authored by the entire band who play and sing enthusiastically: It's also important to note that Sehorn is no longer part of the production team and that (uncredited horns <perhaps arranged by Wardell Quezergue?> are upfront and in your face throughout) adds so much to this essential tune and reveals how (newest member) Cyril Neville contributions were starting to mean. Similarly the band members all wrote "Africa," "People Say," the cheery and soulful and excellently written "Loving You is on my Mind" finds the group hitting its full-stride, abundantly rejuvenated into the mid-seventies with a newly acquired focus and vibe. At this time (1975) songwriting credits are listed as The Meters, and production is shared by the Meters and Toussaint with "They All Ask'd For You," the long version of "Running Fast," "Disco is the thing Today," and "Mister Moon" of these last four – I did not find anything memorable, especially the disco track. Though it's back to the roots with Earl King's "Trick Bag" meshes in a soul-funk blues mode. The forgettable "Find Yourself" from 1976 written by The Meters was the final track that Toussaint was involved with (though there were only two more.) 1977's full band credited "Be My Lady," and "No More Okey Doke" were produced by David Rubinson & Friends, Inc. "Be My Lady" features Cyril Neville's potent vocal, but the song is over arranged, takes The Meters down uncomfortable paths. The finale "No More Okey Doke" is another led by Cyril Neville's vocals and suffers from similar arrangement ailments of "Be My Lady." Even though The Meters occasionally toured afterwards, these final tracks were their swansong.
Bill Dahl's lengthy liner notes are (as always) spot on, and he's the perfect journalist for Real Gone to have opine about these (almost forgotten) Crescent City legends who were marginally overshadowed by their Memphis instrumental band contemporaries: Booker T. & the MG's from Stax who made their initial mark years earlier than The Meters. Long story short: You cannot go wrong with these forty tracks by The Meters. For me; this truly was: "A Message from the Meters," because I'd forgotten how they successfully reinvented themselves to higher heights several times within in a relatively short period of time. All in all: Great music from a very interesting band. Enjoy!
For 17 years Bob Putignano has been pivotal with his Sounds of Blue radio shows.
On-demand Homegrown Sounds of Blue internet radio shows can always be found at: www.soundsofblue.com/radioshowsmp3.htm
Sounds of Blue also streams on Wed & Fri at John Sinclair's www.RadioFreeAmsterdam.com
Previously a contributing editor at Blues Revue, Blueswax, and Goldmine magazines, currently the Music Editor for the Yonkers Tribune www.YonkersTribune.com & www.MakingAScene.org Bob was also the 2003 recipient of the "Keeping the Blues Alive" award (given by the Blues Foundation in Memphis) for his achievements in radio broadcasting. Putignano can be contacted at: [email protected]